There isn't a day that passes when I am not thinking of a loaf I want to make, and this is one of them. But caution should not be tossed into the wind when you're baking or cooking. Reckless abandonment is not a recipe for success. It''s more likely a dud for the heap!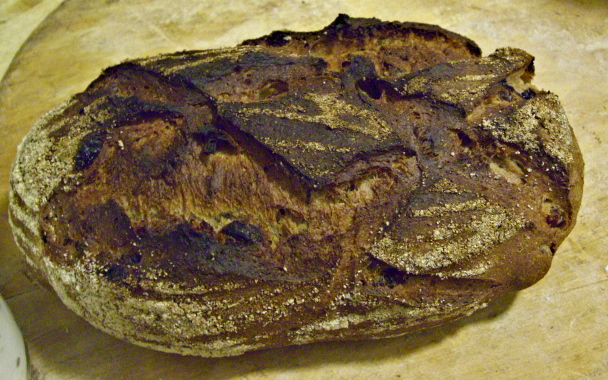 Recently I followed a thread on Dan Lepard's site for a malted raisin and porter ale bread. Who doesn't  like the sound of those combinations? I was so enthralled, I did a quick "kind-of-read" of the instructions, bought a bottle of Porter ale, made the feed of my levain and proceeded to follow the formula without taking the time to really focus on the details. What  I should of done was actively read the instructions, which means getting out a pencil (or a spreadsheet) and taken a better look at the advice given for this variant of the original formula.
It's always fun thinking you have lots of experience baking and letting your hair down so you can be  able to toy with a recipe. A tweak here a tweak there. But don't fool yourself; the end product can get away if you haven't crossed your T's and dotted the i's! All to say that even in the course of making the said loaf, all indications were pointing to a brick fruit loaf, had I failed to add more liquid to a semi-arid looking effort.
Remembering my baker friend Nil's advice, I added enough water till the dough has the consistency of mashed potatoes. This brought the loaf back in time from the clutches of the garbage bin. It's cooling down now. The other test is whether it tastes good. Given how I've written this post without waiting to find out, you can tell how exciting this bread was to me. May it turn out well for all!
Lesson learned, here are some tips I pass along:
1. Basic parameters,(here are some good ones from Dan Lepard, I copied from his site, could'nt find the original thread)
Dan Lepards parameters:
Regarding the formulas used, I simply have in my mind an understanding of certain parameters that force ingredients to stay within certain proportions. These are the things we know:
To a kilo of strong white flour…
1 litre of liquid makes a thick spoonable batter
1 1/2 litre makes a thick pouring batter
2 litres makes a thin pouring batter
750ml makes a very soft dough
650ml makes a medium soft dough
600ml makes a firm dough
550ml makes a very firm dough
500ml makes a very dry dough
Add time to the mixtures above, anything from 10 minutes to 100 hours and changes will be observed. Over the past 12 years, I have experimented without countless approaches to ingredients, then observed, photographed, written and filed the results obsessively, all to try and understand what happens with different combinations. I don't think of it as "winging it" because of this emphasis on recording what happens – measuring and noting every ingredients that's added. Call me the alchemist of dough.
Golden rules and some scratch pads:
2. Do the math,(I hate it but it works)
3. Gather your ingredients, make sure you got what you need first.
4. Schedules, important!
5.Take notes, paper is good but if your like me remember your last mistake!
6. Have fun.