In Ecuador breakfast options seem almost unlimited; the fruits, the cheeses, things from the sea, it's as if the bounty is endless. One of my favorite things to start when I just arrive is a ceviçhe – whether it's
"mixto" (mixed), shrimp, or pulpo (octopus). If you're lucky you can get an oyster or even spondylus depending on the season.
Every province, town or city has its typical dish, each prepared or served with a unique twist. Like the unusual but flavorful and filled encebollado de albacora, an Ecuadorian fish recipe with ingredients supposedly introduced by the conquistadores, including onions and limes. In addition, you see local ingredients like chilies, tomatoes, yucca, and aji Peruano, which, incidentally, research says is actually not aji from Peru. Either way, it makes for a great marriage and a cure all for hangovers.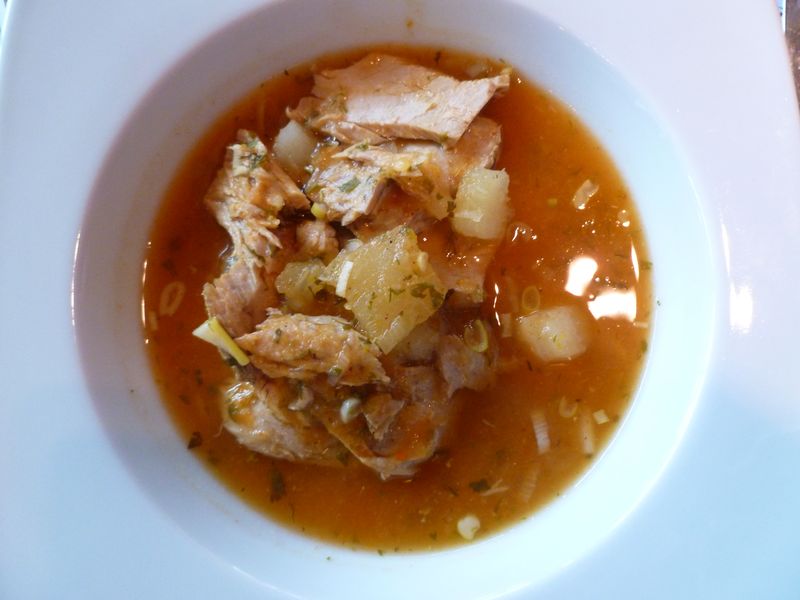 Most recently in Puerto Lopez I tried what we have on our breakfast menu, "desayuno Manabita." This can either consist of braised fish or beef, and cooked in a pot of
onions, peppers,tomatoes, and achiote. It's supposed to be served with some rice
and the show stopper, a bolon y (with) queso (cheese).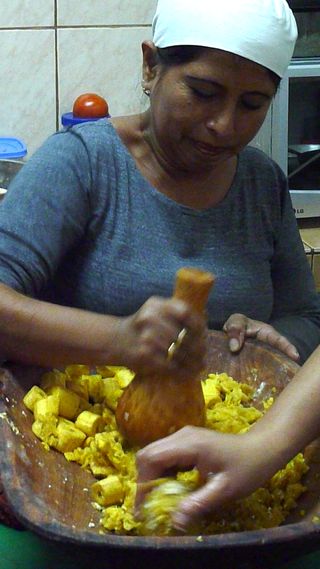 You can also ask for a helping of sal prieta or even mani (peanut butter) added into the bolon, but most often it's just mixed with cheese, though I like some cilantro in it too.
Then there are my other favorites from the Andean foothills. Take tigrillo, a specialty from the  Provincia del Oro, the region of my wife's family. Made from boiled and mashed plantains, mixed with cooked red and green onions with an egg and cheese, it's mixed in the pan and cooked.
It's a cousin to lots of mashed plantain dishes, like mangu or mofongo. According to my brother-in-law, it  comes from another area, specifically the city of Loja. He told me that Provincia del Oro and Loja share several dishes, including a very interesting soup made with young green banana's called repe and tamales  tostados,(next photo, below) each province showing off their local variations.