As I am getting into the holiday season, my posts will be irregular, sort of like my baking.
The tweaking of time and bread is an art. And then life throws in its own variables and constraints. Time is, by far, both the hardest denominator and the final arbiter of what leads to a great loaf of bread. Or a dud. Well, with Thanksgiving about to descend, followed by Christmas, I'm at work preparing brioche, terrines, ravioli's, menus and all other things delicious or just requested by our crowd. Ah, the day-to-day mechanics of wrapping one's love of cooking in the mandate of a profession known as "the chef."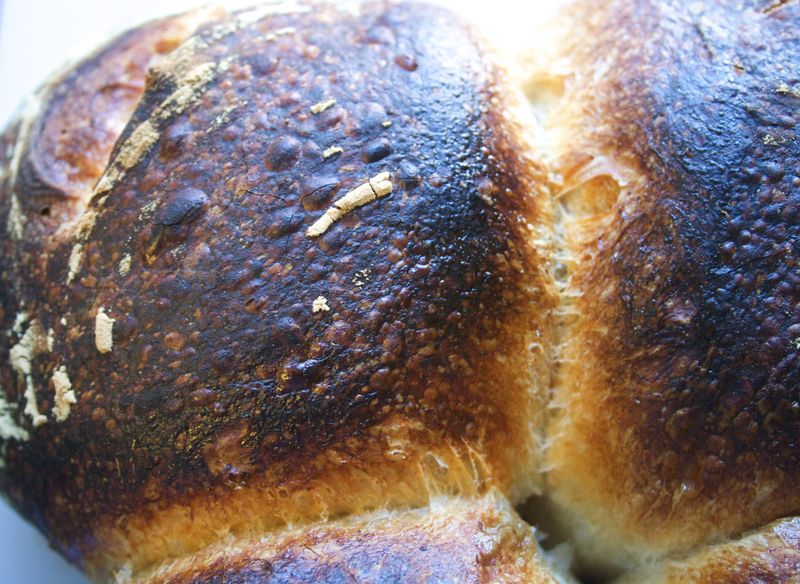 Busy as I am, I still have to get in a loaf, or two. With my wife's bread-related support (and sometimes criticism) as a background chorus in my own kitchen, I bake at home knowing that my loaves can sometimes be too hard, too chewy, or "too" something else.Though, in truth, I have no attraction to creating the soft and spongy loaf too often today served as "bread."  I am rustic and coarse like bran, but I need something made from my own hands. And bread is the most honest, basic of foods, really.
You can't mask breads as you can pastry – where you can add a ganache or some adornment to hide a flaw. You can't cover it with sauce as you can with many dishes, adding a flourish of some powdered spice or floral herb leaf. If you forgot salt, sure you could say it's a pale Tuscan saltless bread, but if it is underproofed and blown out, you're not going to be able to call that rustic.
Great bread at its core is monolithic, set in its brown and golden hues from the heat of the oven. It speaks its truth in how it looks from its first removal from its baking. And while some bakers think artisan breads should be airy affairs, blessed with lovely however irregular holes, success doesn't always mean a big bubbly loaf frequently associated with sour dough bread. Even with sour dough breads, in truth, they're not overly sour, if sour at all!
In the end it's all about managing resources, from time to dough. Starting with the mix and ending when set by fire and ash to its most beautiful state, a finished loaf to be adorned with your favorite food or, maybe, as is.