Home made bread. First, you create the levain. Then you wait for, what seems, hours and hours.  Once the build starts, you watch the bubbling, your ears listening for the right pop and hiss. Then you mix and enjoy the miracles of flour, water and salt coalesce… and then, the question arises, now what shall I actually bake.
Quite often, I'll want to repeat what's known. But it's great to test yourself, borrowing ideas from books or other blogs, seeing how you can adapt them or just fluidly follow a formula and make it turn out perfecto! I found a great source in baker dmsnyder a frequent contributor to The Fresh Loaf. I tried his scaled down version of a Walnut raisin sourdough from that wonderful baking mecca, SFBI!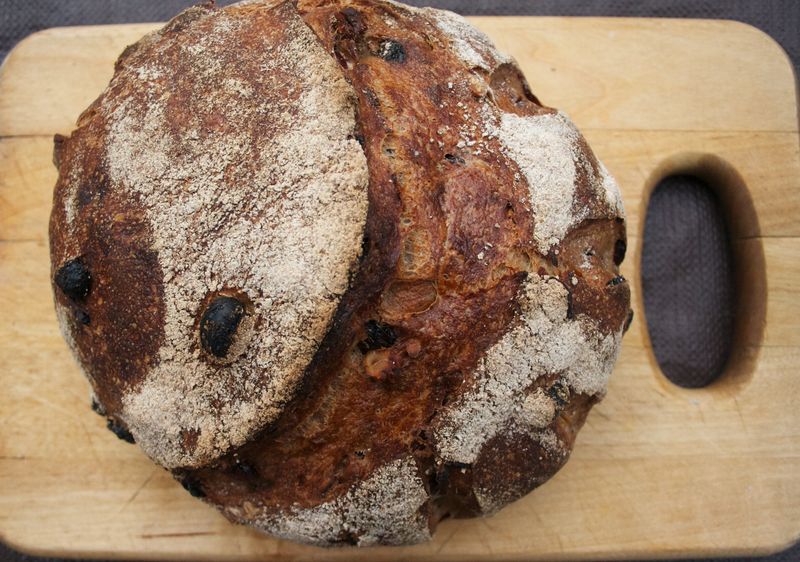 My own adaption was simple, as my mom requested cranberries. As I had faith in my levain, I tossed out the commercial yeast, wild yeast gods be with me!
The results were a fruity and flavorful loaf, coming from levain more firm than the usual liquid consistentcy of mine. I also roasted the walnuts and soaked the raisin cranberry mix. I even cut around 10 percent of the water during, what's known as, the autolyse stage. I then hand-mixed the rest of the water till the dough had a medium development, in French, " bassinage" to adjust the hydration, rather then add more flour to your dough. Once the nuts and raisins were added, I limited  my folds to one during the bulk ferment as the dough felt strong, and baked the bread in a creuset pot, top on 20 minutes, top off 15-20, till it had some nice signs of shiny caramelization!