My wife and I had friends over this last weekend for a pizza demonstration from brothers Julian & Ethan Ansorge. These brothers happen to be a few years younger than me. Way younger, actually. 
Before we go to the experience of working with the brothers, here's some background on my own preparation. The day before I made up some standard Napoletano style dough to let it develop flavor and get just right. No fancy "00" flour this time, just good old American "King Arthur" all-purpose flour, water, livieto naturale and salt. A simple tomato sauce with San Marzano tomatoes, sliced garlic and olive oil….salt and pepper to taste. And parmigiano reggiano along with mozzarella to top it, all classic Margharita.
Anyway, the real story are the brothers. I knew that kids today are deft with high tech gadgets, but in hand crafted dough, I learned that youngsters can be miraculous. It took a just a quick demo for Julian and his brother to start shaping an amazing cornice,(edge of the dough, in pizza terminology), which would of made a pizzaiola blush. Take a look at Julian's fine example, in the photo below!
Handling dough is magical. And it brings you back to the fundamental tactile pleasure of creating something tangible, rather then just "consuming" some processed product. For kids, eating something they made by hand is the real "priceless." Which ain't no Master Card ad, it's a shout-out to a try-this-at-home with your kids and friends.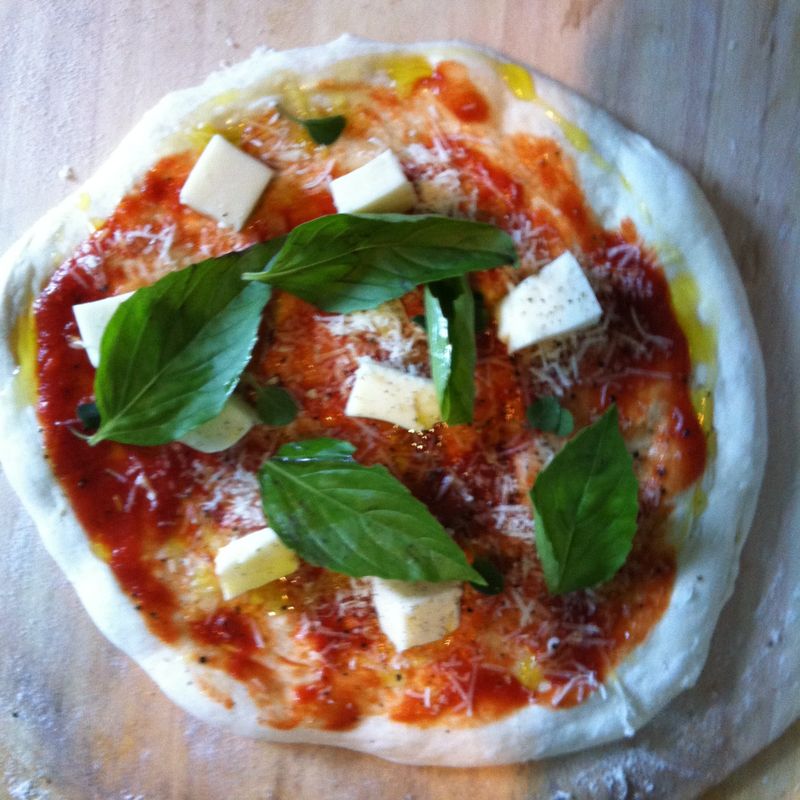 Makings of a classic pizza, ready for the adapted cooking method since I don't have a wood burning stove, yet!
Into a hot cast iron pan, till you get bubbles, then the ubiquitous upskirt scorch, about 3 minutes.
Learning the pizzaiola trade!
These kids devoured the experience, and made me happy by exclaiming it was better then a pizza shop!
Get them in the kitchen young, food is fun, and pizza isn't a vegetable…although you can put plenty on top!
We had another four footed participant watching with great interest, especially the parmigiano.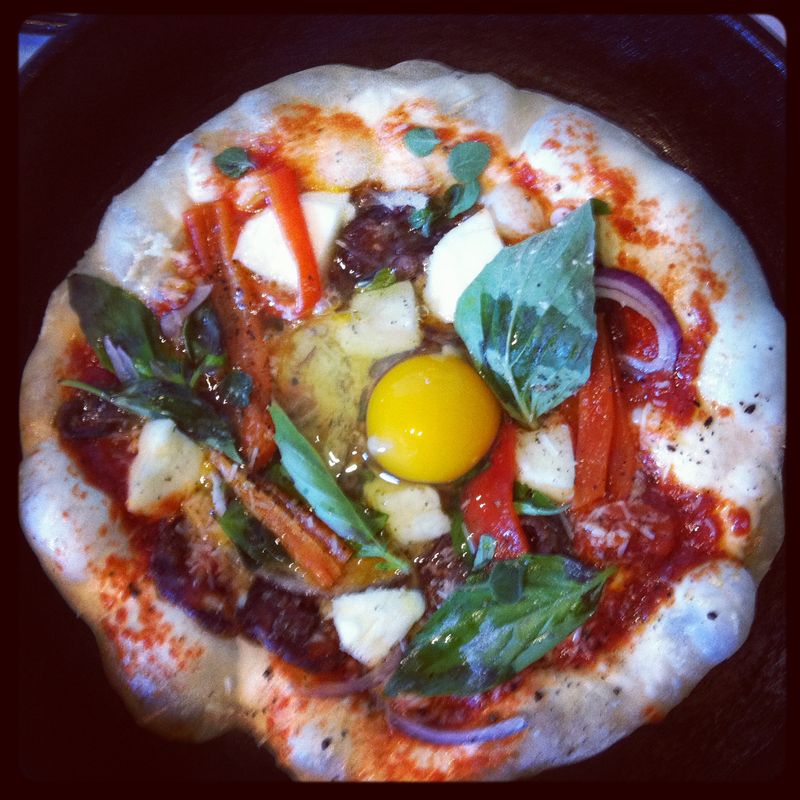 Finally my own over the top, everything pizza, my personal pizza! Suçuk, anchovy, egg, peppers, onion, tomato sauce, cheese, oregano and basil….Umami and yummy!