Based in Charleston, South Carolina, Cypress is prize-winning restaurant that also runs the Artisan Meat Share. Bob Cook is Chef de Cusine at both. Growing up in the mid-west, his first kitchen job was as a teenager at local golf club in Harbor Springs, Michigan. By the end of high school, Bob was the club's sous chef. Besides a focus on butchery and baking, his broader cooking "passion lies in South Asian, Korean and Thai cuisines" and he also in "anything fermented and bubbly…." That means pickling and preservation. He left Michigan in 2007 for Charleston to work at Cypress, where together with executive chef Craig Deihl, he has developed a robust charcuterie program as well as in-house breads. Given our own passion for both meats and breads, Stir the Pots thought Bob a great person to bring in to the kitchen. Here is a transcript of our conversation. 
To start off with, tell us… how did you get into fermentation?
I enjoy the old-world style of preserving food. Once we heavily go into charcuterie at Cypress, I wanted to explore options for complimenting the meats we were curing. Fermentation was one of the processes I explored, and while learning this technique I kind of fell into it.
Where did you learn to cook?
Started in the kitchen when I was 14 as a dishwasher, and found that I enjoyed the kitchen as a whole. After that, decided to skip culinary school and learn hands-on in a few different kitchens in Michigan. Built a solid foundation for the trade and decided to expand my knowledge by exploring other cities and food culture.
I heard about your love of things hot – sauces, etc. I hear you've started a line of hot-themed products. Tell us about the evolution of that. 
It's more a love of condiments than anything else. I wanted to provide consumers with different flavors than what's out there now. Most of these stem from my love of Southeast Asia flavors.
Today you work in Charleston. How did you end up there? 
Before my move to Charleston, I was living in St. Louis. After growing up near the water in Michigan and spending a lot of spare time fishing, I really missed the sport. Charleston was a great fit to be near water with a thriving food scene.
What's the food scene like down south?
It's a compact scene and what I find amazing is how friendly and respectful the F&B community is with each other. I have had the opportunity to work and learn from an amazing group of chefs and peers and can proudly call them my friends as well.
Besides your mustard and hot sauces, what else are you working on?
I'm working on actual hot Thai chili sauce. I'm expecting this release by late summer/early fall. I'm also trying to figure out the logistics of doing a one-off seasonal grain mustard.
And I hear you also make bread?
Yes. I used to make a lot more before AMS opened, but there's not as much time now. Some of favorites are super-hydrated open crumb breads—the kind that the dough is hard to work with but satisfying when you coax it into doing what you want it to.
How did you come up with "Burnt and Salty?"
These are two of my favorite flavors. I think the words in the past have carried a negative connotation wrongfully. When done right, these flavors are just as delicious as products considered sweet or savory.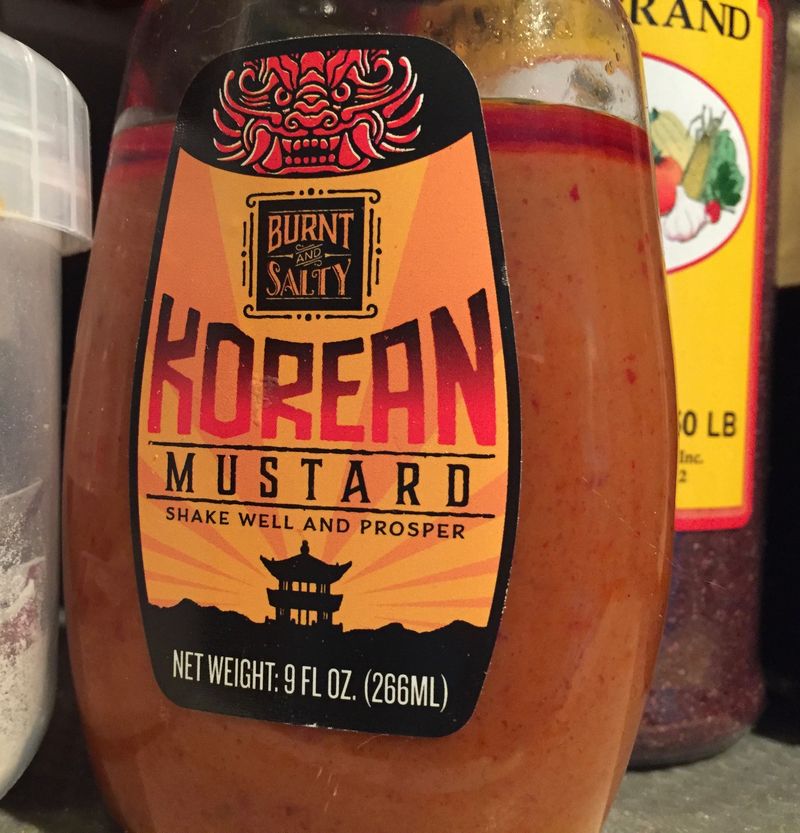 Tell us about Cypress and Artisan Meat Share.
Cypress opened in 2001. It's a two-story restaurant with an exhibition kitchen. The second story kitchen allowed us to develop what started out as CSA-like charcuterie program called Artisan Meat Share. It was so popular, we decided to open a brick-and-mortar so fans could enjoy the products anytime. Artisan Meat Share is a sandwich & butcher shop with a focus on sustainable quality products.
Final question, what do you do when you're not fermenting or cooking?
With Burnt & Salty and my career at the restaurants, I stay pretty busy. But when there's a little bit of downtime, I love taking out a boat and spending the day on the water fishing. Another passion is growing super-hot chili peppers. I'm kind of a chili head.