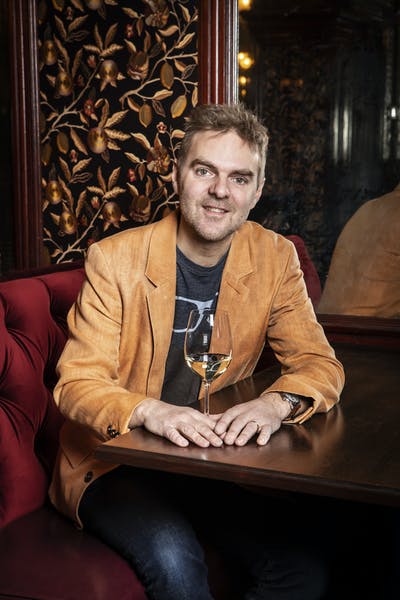 I first met sommelier Étienne Guérin when he was working at M. Wells. It was back when the Long Island City restaurant was in its early days, a follow-up to the owner's Quebec-influenced establishment of the M. Wells Diner. Guérin's wine knowledge impressed me. His suggestions always made for memorable meals, and the moments we had to talk led to interesting conversation. As the restaurant was perpetually busy, our time to converse was limited. Despite those limits, Étienne Guérin struck me as a person with original ideas and rich professional experience.
Recently I learned that Guérin has been tapped to become wine director for Gage & Tollner, an iconic Brooklyn steakhouse that has inhabited the same space on Fulton Street since 1892. The original restaurant was actually shuttered in 2004. A few years ago, it was purchased by a team of talented restaurateurs who planned to relaunch it last spring. Then COVID hit and everything closed. Now a year later, Gage & Tollner has finally opened. Before Guérin gets too busy with his new job, I invited him to Stir the Pots for an interview.
So, Étienne, how did you become a sommelier?
I was a 21-year old classical guitar performance undergrad when I had the fortune to land a server assistant job at L'Express, an iconic Montreal restaurant with an amazing wine culture. Every staff meal started with opening a bottle from the wine list. The only condition for this indulgence was that everyone was required to fill in a tasting report. Management kept detailed records of our "palate progress."
In fact, I wouldn't be the same person now without the memorable bonding experiences of that setting, drinking with the veteran palates who shared with me. My older coworkers Bardoul, Robert and the legendary Monsieur Masson were straight out of central casting. They were not sommeliers per se, but their tasting experience was unmatched. I was an avid learner and soon got promoted to better positions in the dining room.
I left L'Express in 2003 to help open a terrific wine bar (BU), where I learned a lot from the soft-spoken wit of my partner Patrick St-Vincent. Ultimately, I went to formally study wine in a Sommelier program. But I can honestly say that most of my wine knowledge is inextricably associated to those first few years of my life working in restaurants.
From its inception, what was M.Wells: fine dining or a reinvented steakhouse?
For Chef Hugue Dufour, M. Wells Steakhouse was a clear attempt to rewrite the history of an iconic American institution on his own terms, just like he had done previously with the Diner. It was never a simple steakhouse, but rather a meat-centric Québécois joint in a post-garage environment, born out of idiosyncratic real estate circumstances. There was some form of exorcism involved, coming after all the vegetarian-activist backlash Hugue faced when serving horse meat. The carnivore offering also worked as subliminal marketing, inspiring guests to expect the full-on splurge typically associated with the baller-type chophouse dinners.
Beyond the sacrosanct Beef-Pork-Chicken trifecta, Hugue likes to cook offals, brains, goat, fish livers and spaghetti. Obviously, he likes to mix things around in a playful, tongue-in-cheek fashion. I'll always remember the very first dish he home cooked for me. It was the night I landed in New York on his invitation. He prepared a simple sausage/rapini orecchiette dish and augmented it with prosciutto and melon. The appetizer was served within the pasta. How brilliant is that? He never mentioned it ever again. That's just so Hugue.
When we opened in 2013, we quickly realized how narrow the notion of "steakhouse" was for most New Yorkers, and how opinionated everyone was about their steaks. But given Hugue's unbridled imagination, the point was always: come with an open mind and an empty stomach.
At hiring, I was given carte blanche in the cellar. On opening night, I was terrified that my initial list wasn't featuring any of the usual big boy Cabs expected from a steakhouse. It had too much Beaujolais, too much Muscadet, too much Jura. Cabernet drinkers were steered into drinking Cornas and Bandol.
Things got messy sometimes, but patrons had a really good time, and so did us staff. No one requested Screaming Eagle. We sabered everything sparkling, but disasters were largely avoided. And even though we had a lukewarm New York Times review, we sang Passe-Partout songs all throughout service. Looking back on the times, well, the memories elicit a lot of fondness. Working there was an awful lot of fun.
In retrospect I cannot say that M. Wells Steakhouse managed to "re-invent" anything, but it most certainly felt fresh at the time to explore such a no-BS, bare-bones perspective on fine dining. We were all thrilled to be awarded a Michelin Star in 2015.
You are now the Wine Director at Gage & Tollner. What is the story behind this historic restaurant in Brooklyn?
The restaurant first opened in 1879 on Fulton Street. In 1892, the owners moved the restaurant a few blocks over, still on Fulton Street. Over the next 100 years, Gage & Tollner grew to become a wildly popular New York oyster and chophouse. From what I heard, it was a Brooklyn alternative to Manhattan's Delmonicos, a destination for both celebrities and crowds who just wanted a good time. It closed down in 2004 and the space changed hands several times. Then Sohui Kim (the chef behind the opening of Insa and The Good Fork), her husband and business partner Ben Schneider, and St. John Frizell decided to team up to reopen Gage & Tollner in the same space.
Our grand opening was set for March 15th 2020, the very day New York City was shut down because of COVID. We all thought the restrictions would last a couple of weeks, but here we are, a year later, operating at half-capacity but very much alive. What a privilege to be part of its revival! The room is vibrant, loaded with the energy of the loyal diners who patronized it for over a century. It reminds me of Carnegie Hall: not just a room with four walls and a stage but a sanctuary where the ghosts of performers of the past still haunt the auditorium. The vibe is palpable. We are definitely ready for another century or two.
So bring us into the evolution of your own career. How do you express or explain wine to people?
I like to keep it short. Here's an example: I have an exhilarating Portuguese white on Gage & Tollner's current by-the-glass list. I'd tell a guest: "Imagine a ripe peach sprinkled with coarse salt." If the guest is from the industry, I'll say "Bright and saline. Think of the De Moors growing Albariño in Saint-Bris." There are so many ways to describe a wine. But my main focus is to provide a simple but evocative description so I can go straight to asking, "how's your mom doing?" over the glass of wine you're enjoying.
Can you quickly determine the level of a person's wine knowledge?
Yes, but regardless of where their knowledge stands, I try to be more aware of the degree of engagement they expect from me. Some people don't want to be stuck with a verbose sommelier crashing their date; others think it's the sexiest way to impress them. Some guests want you to put on a show; some prefer to put on their own. I try to identify people's boundaries and respect them, and if I have good stories about a wine I love, well I'll just refrain from telling them if that's not the vibe around the table. There must be a reason why this is called "service and hospitality," right?
Do you have a favorite, between red and white wine?
I mostly drink white, but I love both equally. There is nothing I want to drink more these days than this wonderful Portuguese white I just mentioned: the 2017 Fossil from Vale da Capucha.
Orange wines, legit or just some trendy weird stuff?
Whether it's skin contact pet nat from Wisconsin, or sleepy industrial Bordeaux from Entre-Deux-Mers, it's only going to feel insincere and gimmicky if it's not well done. However, I prefer the flaws and shortcomings of producers who take risks rather than the indistinctiveness of a safe, boring and generic style of winemaking.
Returning to restaurant work after the COVID lockdown, I am genuinely curious to see if today's guests are still willing to be challenged a little. My gut feeling is that it's definitely not the point right now, and definitely not my mission at Gage & Tollner. My instinct says people want to get back to some comfort and security. That being said, there is no shortage of non-threatening "orange" wines that should now be regarded as classics, entirely integrated to the répertoire: Péron, Gravner, Radikon, so many others….
Food you like?
I like simple tasty Italian fare.
What has changed in wine since you became a sommelier?
The demand for fine wine has spiked and prices have skyrocketed. There has been a full generation of young wine drinkers with less buying power who were denied access to the quintessential reference wines of Burgundy, Bordeaux, the Rhône Valley, Piedmont and others. It is no wonder that quirky curve ball oddities have become the norm and go viral on Instagram: these wines are affordable.
It may have been a stretch 25 years ago to buy a bottle of Rousseau's Clos-Saint-Jacques or Léoville-Las-Cases, but you could still make it happen. It's now nearly impossible, especially in a city where most 20-somethings are rent-burdened and have nowhere to store collectibles. It creates some form of distance, even for those of us in the industry. Young sommeliers, for instance, can only experience high end wines through their wealthy patrons, for whom they open fancy bottles without going through the whole process of chasing a unicorn bottle, finding it, buying it, storing it, nurturing it, be tempted to open it but save it for later and finally sit down with the wine to fully get the feel of it after such a long-built anticipation. A real disconnect has emerged between who drinks this and who drinks that.
How do you think that fine dining and wine service can survive in a post-COVID world – juggling perpetually changing tastes with the hardship everyone has just been through?
Like every fine dining professional, I have been wondering about the meaning of life and my place in the world during this miserable year of forced unemployment. But it took me five minutes back on a restaurant floor to realize that diners are, first and foremost, looking for comfort and kindness. Honestly, that's genuinely gratifying for me to provide. And for guests to receive. A real win-win situation.
I believe that true hospitality can't be found on the Internet and isn't a disposable commodity. The market for human kindness is pretty high right now and is here to stay. What's on the plate is crucial to a restaurant's success. But right now, it may not be the top priority. Or certainly the only one. Establishments that are willing to affirm their brand through warm hospitality will not only survive but thrive. Hospitality is coming back strong, baby!
You mentioned earlier that you are a trained musician. Does the classical music world include words that may sound weird to the uninitiated, like wine people talking about "legs" or "noble rot?"
Indeed. But beyond the choice of specific words, wine chat and music chat have a very similar vibe. The jargon in both can get so exotic. Both reach the emotional, aesthetic level when shared associations, memories and feelings are used to convey what's in the glass as well as what's heard. Working as a sommelier with most diners, I like to keep things simple. But when engaging with passionate connoisseurs, wine conversations can get as outlandish as Érik Satie's iconoclastic score annotations!
It's not a coincidence that the Venn diagram of my favorite people to drink wine with, and my favorite people to listen to music with, is a perfect circle. The fantasylands of active listening and wine appreciation are vast. And I wish for everyone to feel free frolicking around with no filter or inhibition.
How do music and wine work together, in your experience? Does music evoke wine, or the other way around? Do you associate a given wine with a specific music "pairing", or vice versa?
The relationships that I like to cultivate between music and wine are a true case-by-case scenario. It's not like you press play at random and I can select a specific wine to match what I'm hearing. But there is some form of elusive synesthesia that sometimes magically happens.
Associations can also be made on rational or historical grounds rather than sensory. For instance, I have performed Bach's famous Chaconne on multiple occasions, and always loved to pair its three distinct sections with three different wines: a young Alsatian Riesling, a north Italian skin contact wine, and an older German Riesling. Not only does this create a wonderful synergy between ears and palate, but it also highlights that Bach's music is a sum of influences that came to him from France, Italy and Germany.
I also often think of sound quality in terms of wine. For example, I am the happy owner of two extraordinary guitars built by the same luthier. One has a spruce top, the other a cedar top. The spruce produces a brighter, crisper, more focused sound; the cedar has a bolder, darker tone, richer with harmonics and with a bit more volume. While hearing them side by side, it's easy to imagine respectively Muscadet and Meursault.
Is loud music – or any music at all – really needed in a restaurant's dining room?
Among the chaos of kitchen bells, the endless drone of compressors and dishwashers and the buzz of drinks being mixed, the most musical thing to be heard on a restaurant floor is the flow of diners' conversations. Don't drown it in music. It's disrespectful to guests, and dismissive of music itself.
Who is your favorite composer?
It's complicated. Let's just say that my dog's name is Frantz Schoobert.
Besides wine and music, what else do you like to do?
I like to watch hockey while practicing guitar… with a glass of wine nearby.
What's it like being a Canadian in the time of Trump and Trumpism?
I've spent a lot of the last four years anxiously glued to the news, while practicing guitar… with a glass of wine nearby. I'm glad I can just switch back to hockey now!
THE END
Photo credits: Lizzie Munro (Gage & Tollner 2020)
Photo credits: Sasha Maslow (New York Times 2014)