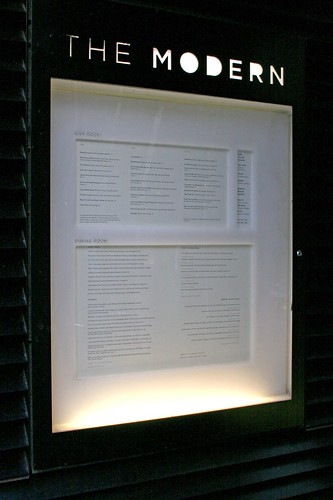 It's been years since I worked at the MOMA or even went to an exhibition. It's Strange how I remember that place, it was the first kitchen I cooked in New York city. The restaurant or dining room where my brother and I worked at is no longer there,though they still have a cafe on the second floor for the masses and downstairs the sleeker and stylish restaurant, The Modern. Initially when the review for the restaurant came out in the NYT I remember noting some interesting dishes and the name of the Chef,but I never really read the reviews as a reference,as they can take away from a personal choice or perspective.It's like when a movie is critiqued, how can someone tell you how you will feel unless you see it for yourself, just like a wine or food, it's personal. So we went yesterday after trying to make a making a reservation last weekend. This time we left our name and while we had to wait and hour to be seated we went window shopping at the museum store across the seat. Returning to the still busy dining room we were seated by the very crowded bar in the lounge area of the restaurant, the room has fine acoustics so you don't feel overwhelmed by noise level, it's rather serene actually, even with it's modern look. While perusing the wine list,(pricey but filled with some good choices.), I looked up and saw Chef David Bouley walking into the restaurant, you couldn't miss him, he seemed to be taking in all the atmosphere and later ventured into the kitchen, hmmmm…was he spying? ( I desperatley wanted to ask him for an interview, it didn't happen though!)
The service was very good, we did get the wrong wine but that was resolved, as the manager said they have over 600 hundred wines in the cellar. The dining room was closed but the lounge restaurant was full, and we looked over a menu with so many choices that it was hard to choose! The menu was filled with worldwide ingredients and had hints of Alsatian dishes which were what I wanted to try. It seems the best thing when ordering. My chef once told us to always order salad, that way you could judge a chefs skill by the vinaigrette he made. I always try something that doesn't seem to overworked or difficult, simple is better and so I went for Modern liverwurst, not that it looked modern but I think it's a homemade wurst. It came with pickled vegetables and some toasted rye bread accompanied with whole grain mustard. It was divine, how can you go wrong? My companions at the table I was with tried a salad with coach farms cheese and pumpkin seeds, and a mushroom soup that looked foamed with a side of some sort of fried chorizo ravioli,really delicious! Main course was a Gaeta olive crusted quail with a chorizo, barley, toasted almonds, and pickled ramps. Quail was pink and moist and the garnish was earthy and married well with the Syrah from Morrocco. The other mains at the table were,Loup de mer with cockles and organic vegetables in there own jus, a duck confit with pommes Lyonnaise and frisee and finally an upsidedown tuna tartare with fennel, Japanese cucumber and aioli! Whew, the portions were just the right amount as desserts we ordered finished us off were also just as good! I had an apple strudel with prune armaganac ice cream, a Modern cheesecake with almonds and passion fruit sauce. The manager graciously gave us a wonderful serving of beignets with two sauces compliments of the house, he said they were a gift from his predecessor who had once been my boss!
So now that I have enjoyed a meal where I once worked, it's nice to feel welcomed back. I am sending chef Gabriel Kreuther a thank you and an invitation to speak with me at stirthepots, stay tuned!