No worries here, my friends. I am back and baking! I revved up my limp starters with a
few quick feeds just to get at least one loaf just for a fix. God I'm
like a junkie now! So I made some hybrid dough  to get my mojo. What
a dud! It turned out to be a stiff D.O.A. from proof to fridge, out and in and back into
the oven. It was like lead, but hell it was bread! ( No pictures, it
was devoured and surprisingly finished off!)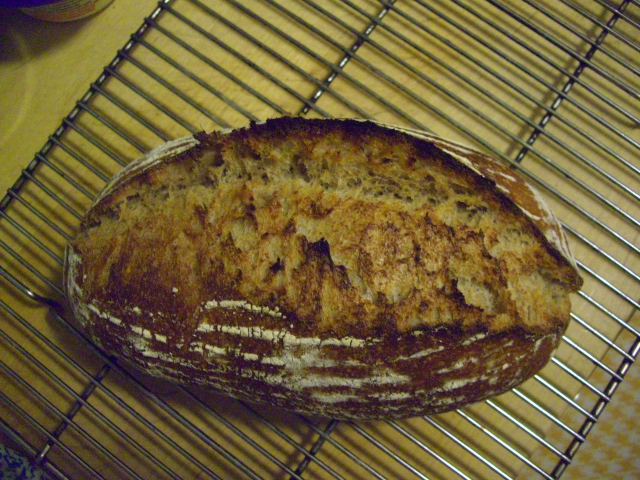 So while surfing and revisiting the idea of  that mad baker Jim Lahey's no knead. I opted for this idea of using a stiffer starter from my friend Teresa of Northewest sourdough fame and throw it into the mix. And from Pim of Chez Pim's, I made her no knead version, borrowing her recipe but using Teresa's Motherdough starter recipe. The idea? See what freak would emerge. Ladies and gents, the resulting bread I made is fierce! Basically
I followed the no knead procedure, but then retarded the dough for
several hours. Working in a split shift, I take a break and bake bread.
 1.) 12 hour bulk ferment after  minimal mix,
2.) next morning pre-shaped, rested for about 20 minutes
3.) Shaped into a batard  then refrigerated until later that afternoon say about 8-10 hours.
4.) Taken out to warm for 1 hour at room temperature.
5.)Baked in a pre-heated Creuset pan at around 480 faranheit, 30 minutes with top on, 15 minutes top off.
Fabulous and tastes really good! Notice the grigne. I didn't even
cut it, as it was seam side up in the bake, au nature! The various flours,
spelt, whole wheat, rye and wheat make a denser loaf then the all white. And I think there is a more sour note from the mother dough and even
the retarding for ten hours.