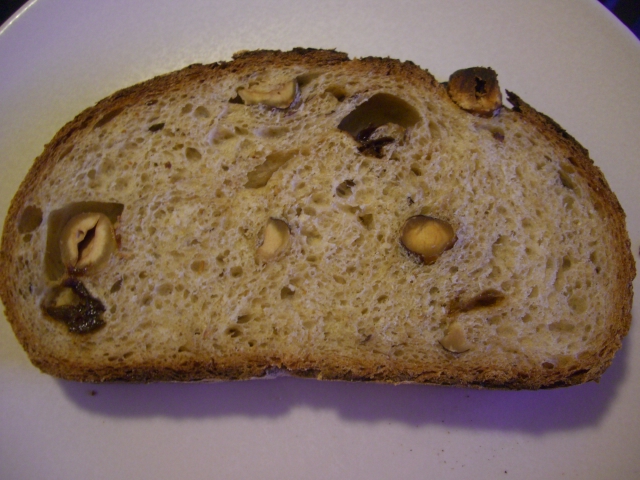 Since trying a prune and hazelnut bread at Montreal's Olive et gourmando, I have been craving it. The recollection on my palate lingered and most recently a fabulous example of such a bread was showcased on my friend MC's fabulous blog. After she made it  I just had to give a try.
I found this formula on a French baking forum on which I was once a member, giving me access to the professional formulas.Though my starter is usually active and refreshed twice daily, I had it stored over the Memorial Day weekend in the fridge. So when I returned, my starter was a bit sluggish and I decided to make this adaption of the pruneaux and noisette bread with a bit of yeast, just for safety sake!
I gave my  friend Susan a shout and she helped me set up a spreadsheet for it. When  I finally got around to making it, it was well worth the effort. I took a bit of liberty, adding more prunes as it seemed light, and I love prunes so much! The yeast did make the rising time a lot shorter. But, all in all, the flavor of sourdough was still there and it has a good shelf life, most likely the addition of butter and milk in the dough as well some sugar.
Most likely, I will make it again and perhaps give it a go with just levain for the next bake. In the mean time, I am spreading some butter and prune lekvar on another slice!