Savoy

Instead of just going to my local
joints or picking up my own pots to cook, my wife and I have made an
effort to visit certain restaurants we've been gathering on a list in recent months. Prior to my operation, we stopped in and had lunch at Savoy.
Having passed it a million times while stomping around Manhattan's downtown section of Broadway,
and seeing a story about this particular restaurant on the Colameco
show, I just had to try it.

From the tiny dining room filled with
sunlight from the windows open to the street, this quaint and
unpretentious restaurant is by far the most relaxing environment I have
eaten in New York. My wife ventured upstairs to the second story of the restaurant, where they have another dining area used in the evening. 

The menu
though light for lunch, was just that – a lunch menu, market driven with
surprising flavors and textures. The small plate appetizers can be ordered as a single order or as a mixed choice of three.  They're simple dishes, rooted in just two or three ingredients that lean to vegetables, with the exception to my favorite fried duck livers! These nuggets had a perfect texture and served with a deliciously spiked chive buttermilk sauce.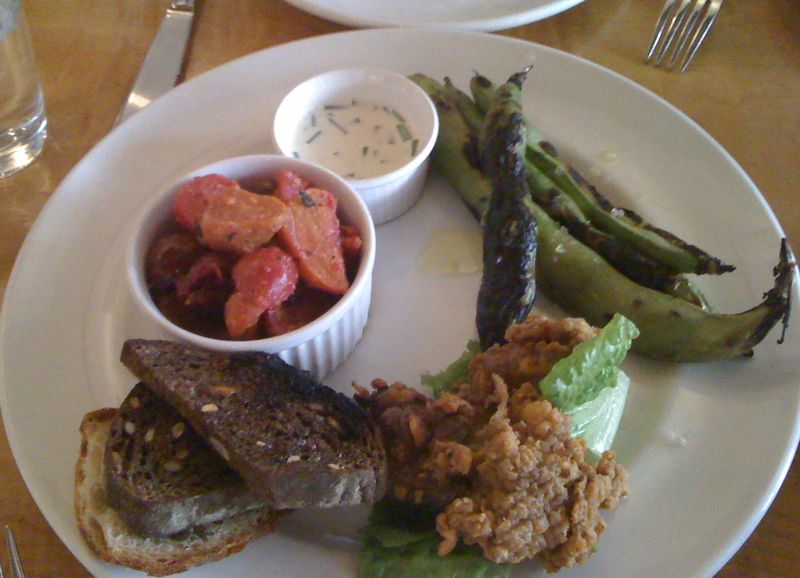 Even with a small menu of just six main courses, the various dishes all caught my eye, making it difficult to decide. Finally, I gave in to the Corned duck leg sandwich. Served with purple mustard on rye with home made potato chips flavored with black pepper and coriander, it was delicious.
Following that lovely sandwich, we shared dessert, an upside-down rhubarb cake with beet sorbet flavored with hyssop.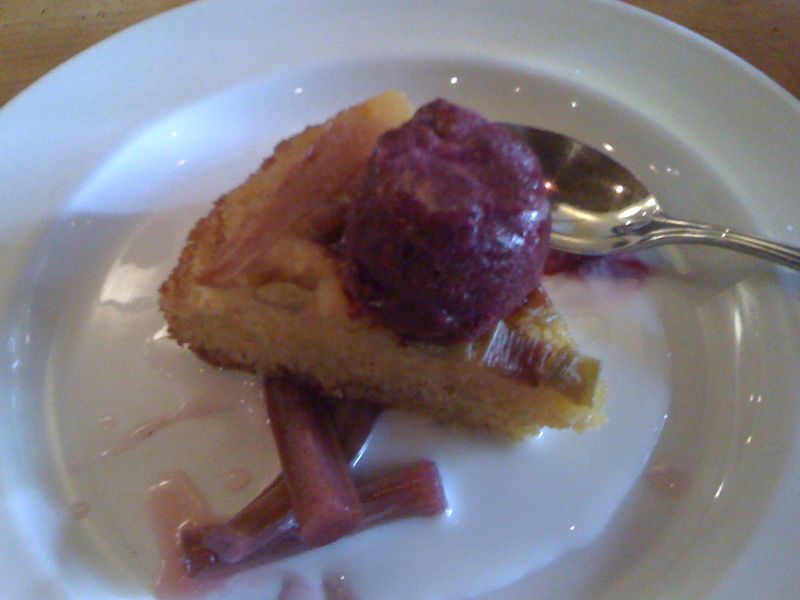 The butter rich cake studded with rhubarb was a perfect foil to the earthy and yet not overwhelming sorbet that soaked up the buttermilk cream and poached rhubarb pieces.  I scarfed this baby down, no problemo!
Venture to say I am going back to this great spot with wonderful food and wonderful service. Next time for dinner.