Yes I know, my nose is back in action, so I had to get it into some more pâté, terrines, and the like.  Today when my wife suggested we celebrate out 22nd wedding anniversary at an impromptu lunch, I couldn't say no!
First she wanted to go to Aquavit, claiming it was the food but I secretly knew it was to see that handsome chef, Marcus Samuelsson. But lunch there was finished at 2:30 in the afternoon. At two o'clock, we were still in Queens, so initially we settled for a less interesting location. But wanting to give my beautiful wife something special, I Googled a few more places on on my i-Phone. Thank you technology! It turned out we could still make Bar Boulud since they served lunch till 4 o'clock!
Pop, off we went into the taxi across Central Park. There in front of  Lincoln Center was the red canopy of the outdoor tables of the restaurant. I felt like I already knew everything about the place. Boy was I in for a surprise!
The wine list, a short one or a leather bound book of paper filled pages  was offered. We opted to do things by the glass rather then the bottle. God knows I could knock one bottle back myself if it were my choice!
For every bottle or glass of Summer Rose, Daniel gives a portion of proceeds to Breast Cancer Research Foundation. So my wife aptly picked a floral scented gem of a wine, Thierry Puzelat, "VDT" Touraine, FR 2008. I am gonna get that for my mom as she will love it. So will you!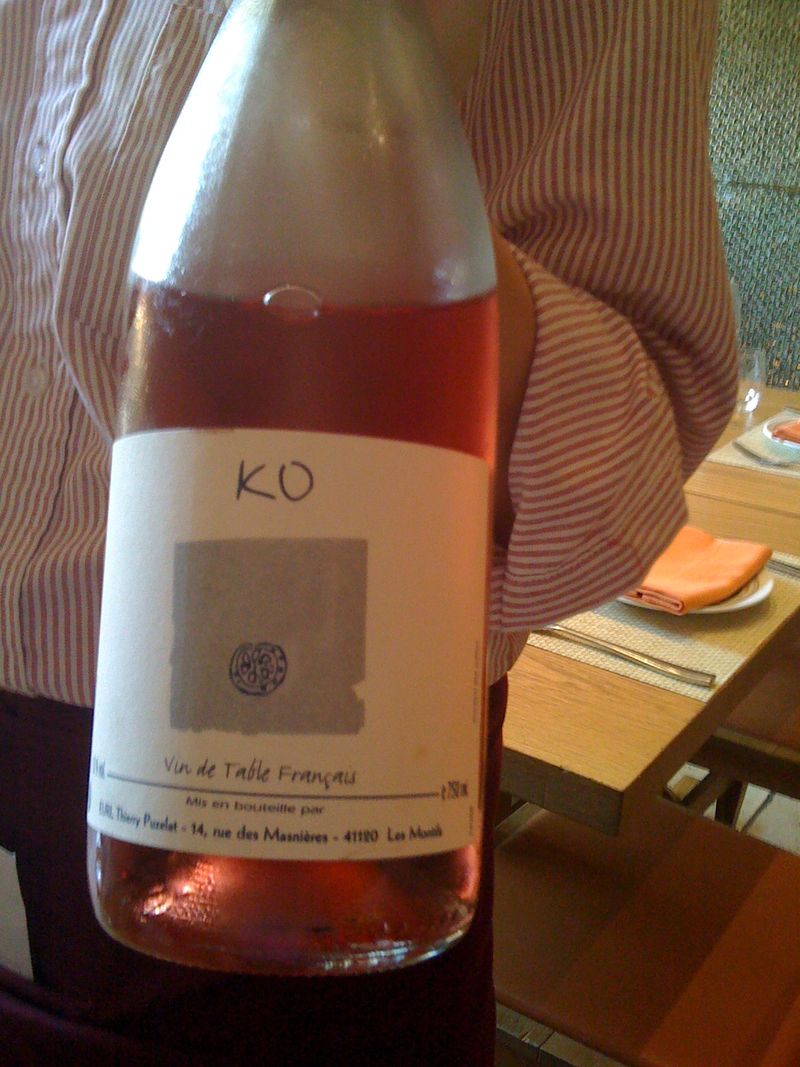 I didn't snap a shot of my own wine, too busy sniffing it, a Clos Du Mont Olivet, Cotes Du Rhone 2007. The first sip was a nectar, pure cassis and fruit explosion.
The service was attentive, the staff really knowledgeable, and they were happy to hear I was blogging about my second visit as the promised to make sure I would enjoy this visit. They kept their word. First things first; nice sliced wheat bread served with butter with a flurry of salt crystals. Terrific! And to think, it's just bread and butter.
Then the choices. It's a small menu, and that makes it even more difficult to choose.The last last visit, my heart ached as I couldn't make out a morsel from the platter of charcuterie we had ordered. At the time, I was just through nose surgery. All I could sense were textures. And then I couldn't recognize any of the nuances and perfect feel to the mouth. This time was different.  I went with the braised beef cheeks. Wonderful. It  reminded me of the picnic me and my wife had on the Seine a few years ago with a bottle of wine. Just closing my eye's I could almost be back in France.
My wife had gazpacho drizzled with both  basil oil, cucumber dice and olive oil.
My entree could kill a cat, croque Monsieur, a lactic overdose of enrobed ham, bread , melted golden brown crusted cheese with an obscene bechamel oozing from the inside out!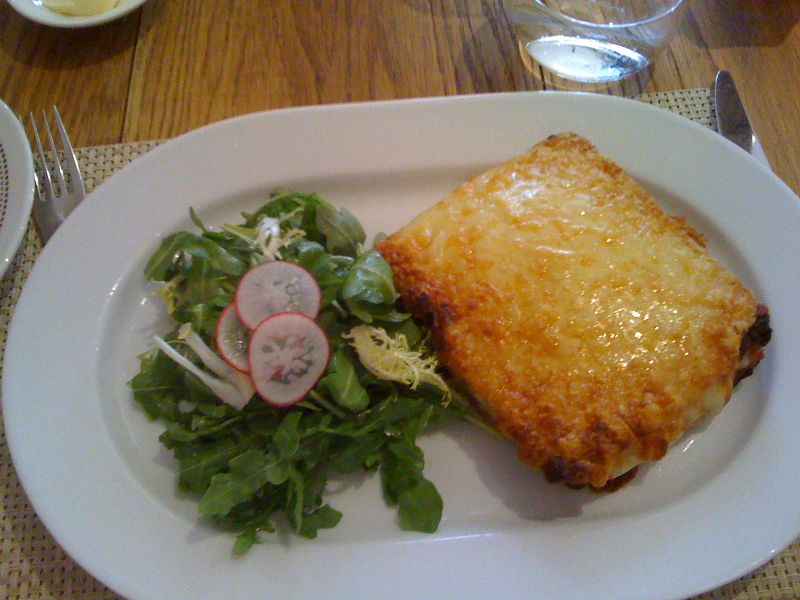 All the while I envied my wife's choice of Boudin blanc, an airy saucisse that lay over truffled pomme puree encircled by a meat jus. Next time!
I knocked off my first glass of wine. My wife and the server suggested another to burn off the artery clogging dish I just devoured. No problemo!
A change of terroir. I chose,Terre Nere, Etna Rosso, Sicily 2008, a spicy and cherry and vanilla scented bouquet. Nice!
Then onwards to dessert. The waiters suggested the gateau Basque. Okay!
The missus ordered some multilayered coupe de something with cardamom mousse, brioche and chocolat.  I helped her knock it off as she nibbled the remains of my brandied cherry and anglaised gateaux Basque…whew!
Between appetizers and entrees, I quickly snapped some pictures of the bar area where the pâté, sausages and terrines are well displayed behind a glass case.  In the front of the case a large shiny slicer, conspicuously clean and well preserved. Perhaps an antique.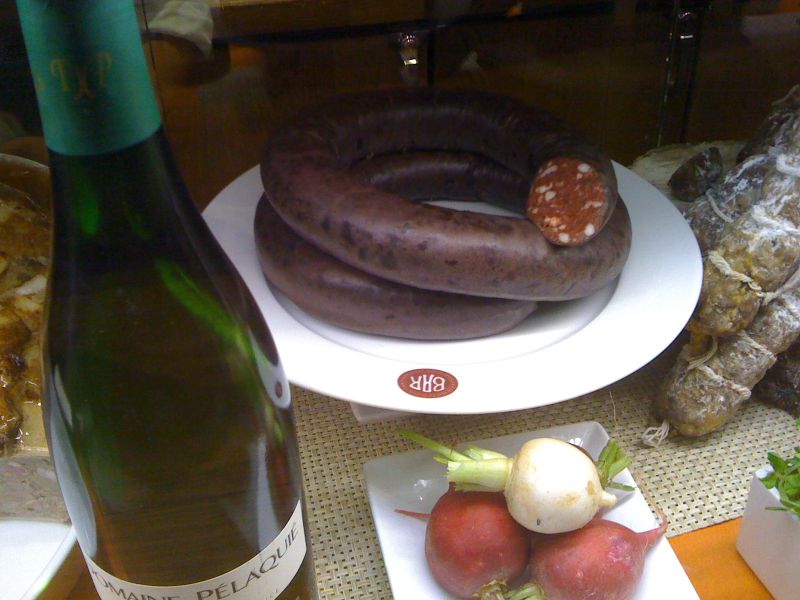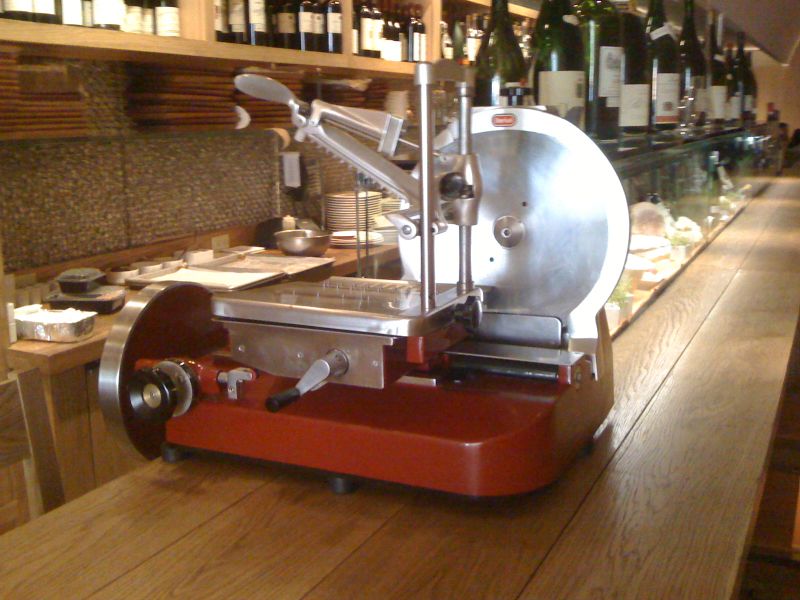 The visit was worth the return. This time I could taste everything. Delicious. Spot on. Before leaving I noticed the staff gathered, perhaps having a wine tasting. It made me wonder if perhaps I should moonlight and work here on the weekends. We'll see.