"Me saco el sombrero a tu pan." That's Spanish for "I tip my hat to your bread," something told to me recently, a capitulation or just an honest assesment from my best critic, my wife.
It's not often I get compliments about my bread from my wife. More often I'll get a scolding for having too many different containers of flour, or crumbs messing up our kitchen. Or worse, my levain looks to her like an eye sore. Then last weekend I had made some bread. It was still just out from an overnight chill in the fridge retarding. So we resorted to buying some local bakery bread. Or rather, my brother-in-law went out searching for a loaf.
Let me tell you, it's not a common sight in my area to find a real bakery. Sadly neigborhood boulangeries just aren't a reality, even in a big city like New York, supposedly the heart of gastronomy. New Yorkers are regelated to either buying from a large wholesale bakery that might have a small retail shop annex, like Amy's bread, or they could buy direct in the Greenmarket. But for us in the boroughs (Queens!) it's often sponge from a supermarket or a mediocre bakery.
When my brother in-law came back, my wife screeched in horror at the supposed baguette specimen, a bleached white and wilted affair decorated with amateur slashes. I allowed myself a smug chuckle as I tucked my now ready loaf into the oven.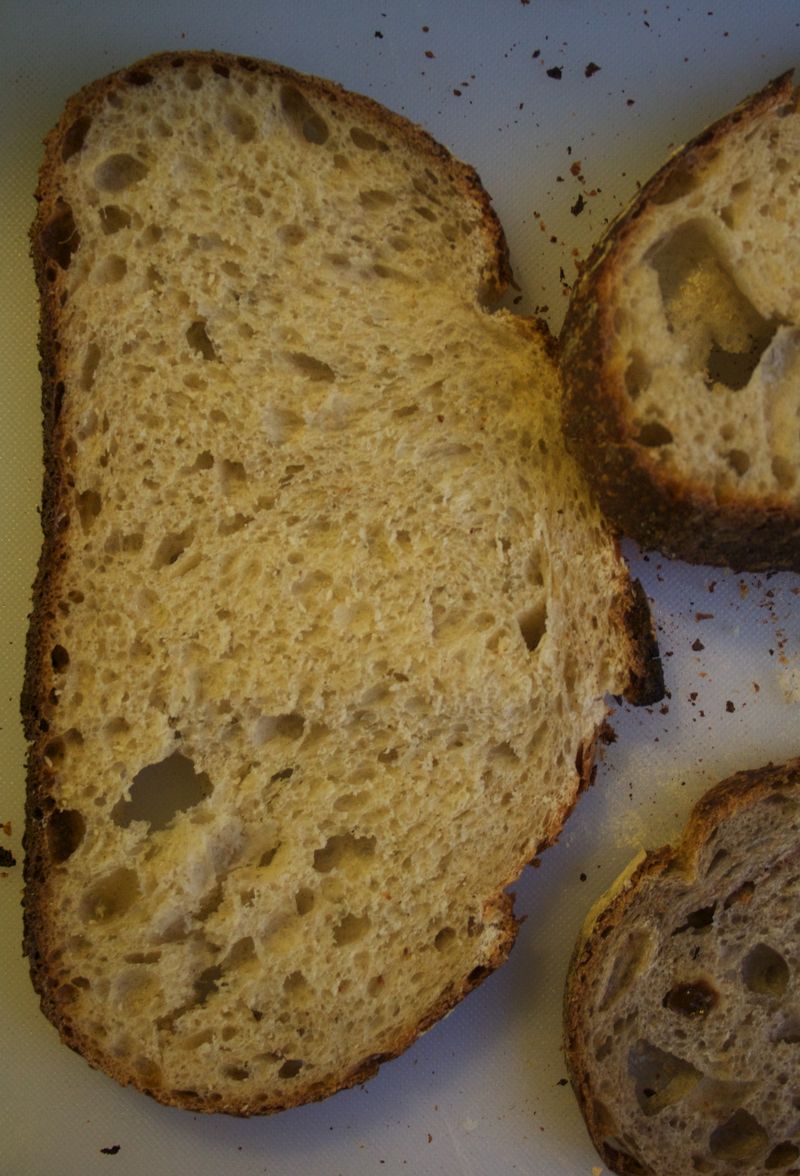 My loaf was an old favorite from FCI a Bordelaise loaf. It was our favorite to take home after class, often cooked a deep dark brown, croustillant in French.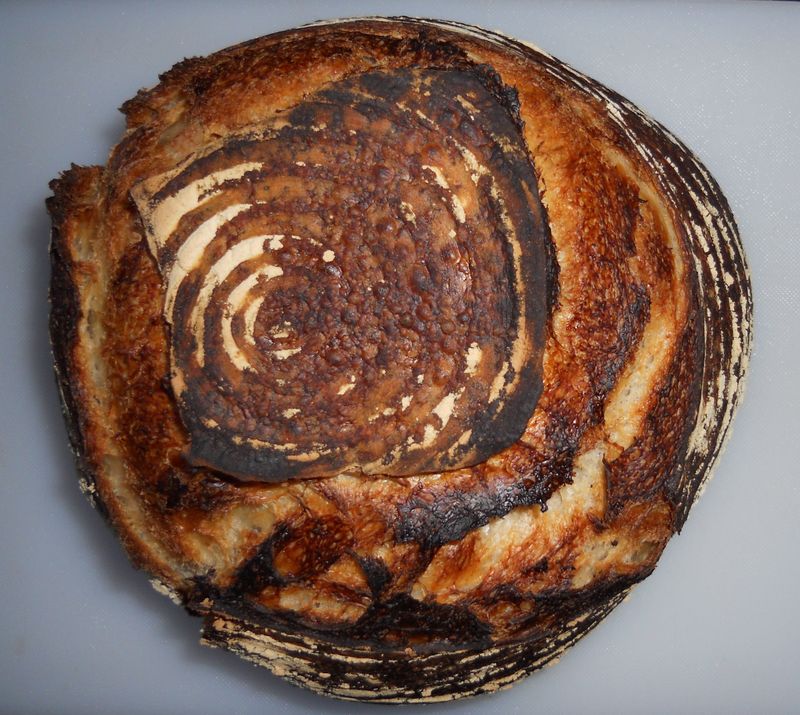 Pain Bordelaise
Adapted from FCI
800g loaf
Levain:
Wheat flour (AP)90g
water                90g
Starter              18g
Mix and let stand 8 hours
Bread Flour (or All Purpose) 354g
Whole wheat                       10g
Rye                                     40g
Water                                206g
Salt                                    10g
Levain                              198g
Mix flour,water, levain, and autolyse for 25 minutes to 1 hour.
Continue mixing at low speed for about 2 minutes.
Add salt and mix on second speed for another two minutes.
Bulk ferment for 11/2 hours, giving the dough two folds, or more if slack.
Pre-shape round, and rest 25 minutes.
Shape into a boule and place in floured banneton.
Final rise, about 2 hours, or may vary on conditions, temperatures…
Bake in a 485 F oven in a creuset pot, covered for 25 minutes, 15 minutes uncovered.