While I love cooking, there is nothing more satisfying to me then baking bread. After 10 plus years of serious bread baking, I finally have a basic core understanding. At the same time, baking remains a mystery, a meaningful search for definitions and for exactness. We bread bakers are constantly searching for the perfect loaf. There's always room for tweaks, playing with the finite constraints that go into bread, namely it's limited ingredients; flour, water, salt and, of course, the levain.
Quite often I'm asked, "which formula did you use?" Often baking makes me think of algebra, a discipline which I never have and never will master. But because of baking,I have become comfortable in crunching numbers. Which translates into an ability to get the baker's percentage-parameters sorted out, the variables being temperature, mix,fermentation and shaping. 
For a long time, baking at work seemed a chore, but the challenge of expressing myself not only as chef, but as baker, started to feel okay. No, it felt better than, "okay." It felt great. Here's an example. At work last week, I had old pizza dough in the fridge, which was on its way to becoming an overly acid pre-ferment – commonly known as, "Satan's spawn," illustriously named by reknowned baker, John Downes. 
Borrowing an idea from my friend  David Aplin at Cliffside Hearth Bread Company, I decided to make a walnut and roasted red onion bread. Using basic levain proportions, I substituted levain with pre-ferment, and a touch of yeast, et voila, some decent tasting bread!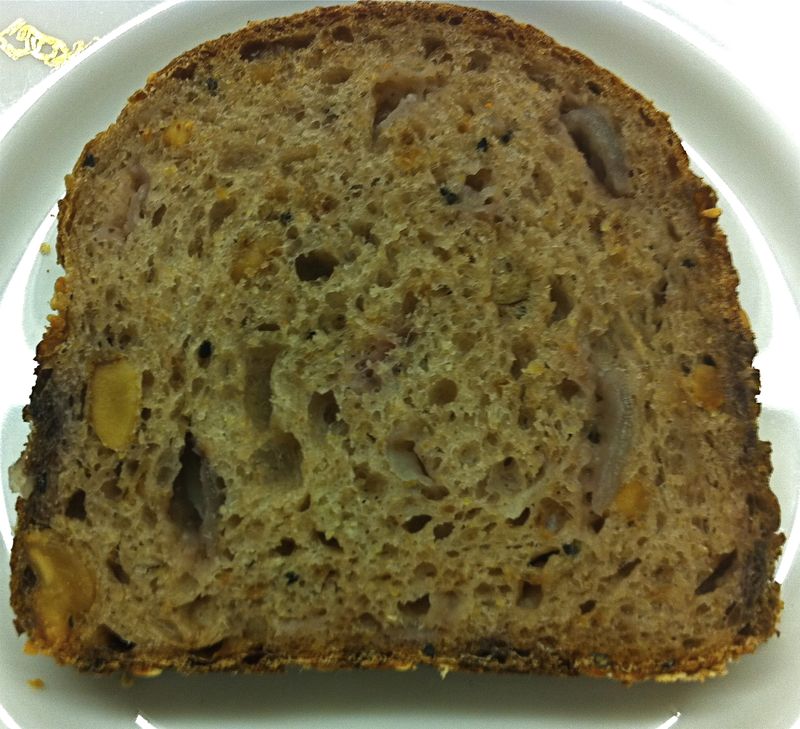 Even lacking my levain, a nice slice smothered with honey and labne (a Lebanese yogurt) was a great foil for this moist loaf of bread. 
Being a big proponent of sourdough doesn't stop me from the use of commercial yeast, any bread if made well, is good bread, just if it's made by your own hands and with love.