Whenever I visit my sister Rachi in Switzerland, there is always for a new treat to discover. One summer we were welcomed to the table, and after a wonderful dinner a huge square cake pan appeared. Within minutes, four adults and three children had devoured the creation, which turned out to be a cheese cake. Only this had virtually no sugar, save a pinch of vanilla sugar and some Dr. Oeteker pudding powder, and a dough that was equal parts, sugar, flour, butter and only one egg. Besides spelt, the most interesting aspect of it was its central ingredient, quark.
Quark is like yogurt, ricotta, and American cottage cheese which are produced with lactic acid and cultures, the whey is removed to arrive at a soft creamy texture. Quite often the curd is stirred to get the right consistency, creamy and soft resembling fromage frais, farmer cheese to you and me.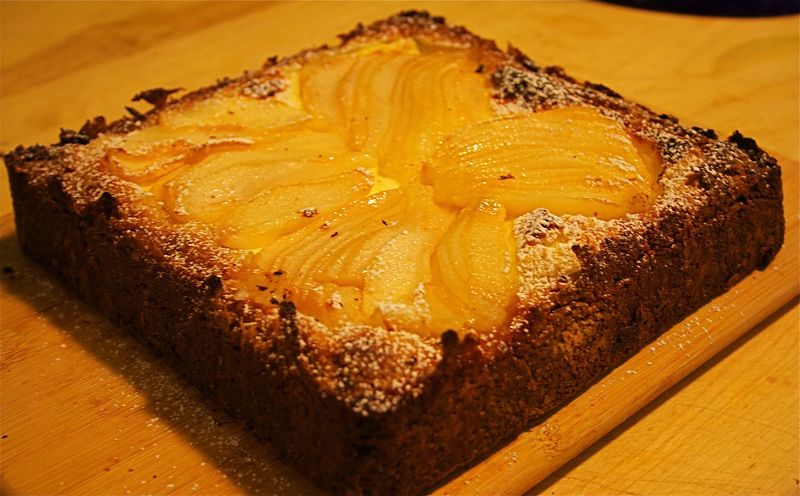 Quark Früchte Kuchen
Dough
250g Flour (I used spelt)
250g Butter
250g Sugar (granulated)
1 Egg
Rum to taste.
Beat butter and sugar till soft and sugar dissolves. Add in egg till incorporated. Fold in flour till well amalgamated and chill for 1 hour.
10" Sqaure or Round Spring form pan, no butter of flouring pan.
Filling:
500g Quark
2 eggs
Vanilla sugar
Vanilla pudding poweder (Dr. Oeteker)
1Tblsp. Cornstarch
180 gr Whipped cream
Mix all ingredients till homogenous except the cream, which is folded into the quark mixture. Fruit or Rhubarb can be folded in or as I did, baked on top.
Bake 1 hour 220 C 430 F
Cool on wire rack, serve at room temperature.
Spotting some quark at Costco, I set about to make this wonderful treat. My only adaption was to take some ripe Bartlett pears, slicing them to layer once the cheese started to set.  I covered the cake with slices and sugared them up a bit, hoping for some caramelization. Right away the butter riche spelt dough started to fall over itself. But the cheese puffed and wiggled a bit and the dough set brown, and it turned out fine. 
Danke kleine schwester!