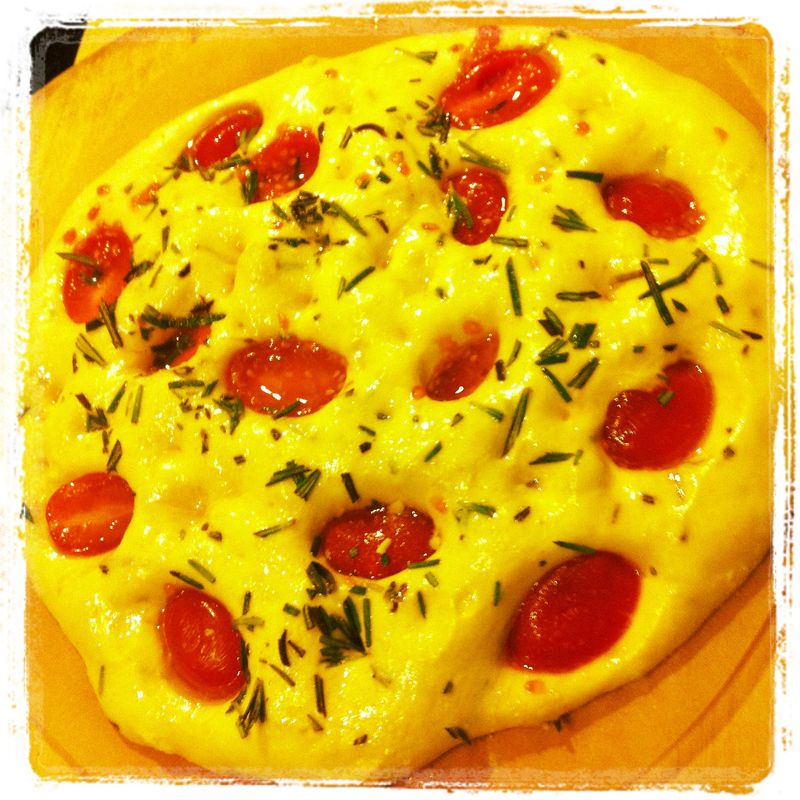 Focaccia. Ahhhh, that famous bubbly bread oversold by our trendy, fickle, wacky world of food marketing. Packaged this way or another, at core, it's simple stuff. It's charm is simple, the ease of seamlessly absorbing unctuous sauces, oils, cheese, or meats… then thrown into an oven to be crisped like something between toasted bagel or warmed biscotti.
Recently, I adapted a formula of choice from classes back at school, offered below the photos. You can either go for a straight dough or adapt it to a biga or even levain. The other night, I made a straight version, as my levains were busy being fed. It took around two hours to prepare and was just the right thing for my poached eggs and bacon this morning.
Levain 14% (increase if you want a bit more push, or opt out on levain.)My levain is 1.1.1 ratio of levain, flour, water, but you could use say a 85% biga if your not yet ready for sourdough.
Durum (Semolina rimacinata) 29%
All purpose flour                   71%
Water                                   63%
salt                                        2%
oil                                        58%
herbs                                    15%
yeast (optional)                       1%
Sugar                                      3%
 Mix flour, water,sugar, yeast,(if used.),  for about 2 minutes on 1st speed. Add salt on second speed, mix dough till it gets a good gluten development. Slowly drizzle oil, allowing dough to absorb it in increments. Finally add herbs, or other add-ins, such as onions, sundried tomatoes, it's endless.
Bulk ferment 45 minutes, you'll see lots of bubbles develop. You could either put dough in pans or round them to make smaller round focacinni around 500 gram each. Spread into pans making indentations into the dough. Let rise for one hour, before placing dough into a 350F oven, making indentations into the dough and stretch it a bit. Drizzle olive oil, you can sprinkle herbs and coarse sea salt. Mist some water over the top and bake for 45 to 50 minutes till golden brown.