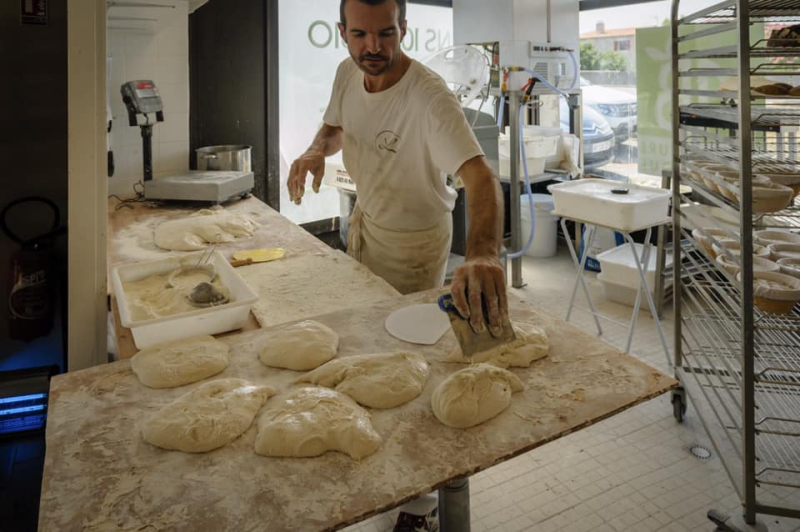 Laurent L'Hénaff is a baker who switched from his career as an IT engineer to working in front of an oven. Like his pal Thierry Delabre, who also started baking as a hobby, Laurent is from Brittany with an inspiring website and Facebook presence. I connected with him on Facebook and invited him to answer some questions for Stir the Pots. Here is what he shared.
How did you decide to become a baker?
It all started when I decided to switch from IT engineer to cooking, I then started making bread at home and found a real interest in understanding the process. Google+ was up by the time, and there was a "home baking community" set, which helped me a lot. I then got in touch with Thierry Delabre who definitely taught me a lot about sourdough bread. A few years later after moving to the west French coast (La Rochelle), I created my home cooking company, but the bread took over and I decided the right path was creating a bakery, which I did after 2 years spent to set it up, finding the budget, getting the right diploma. The bakery opened its doors on November the 15th 2017.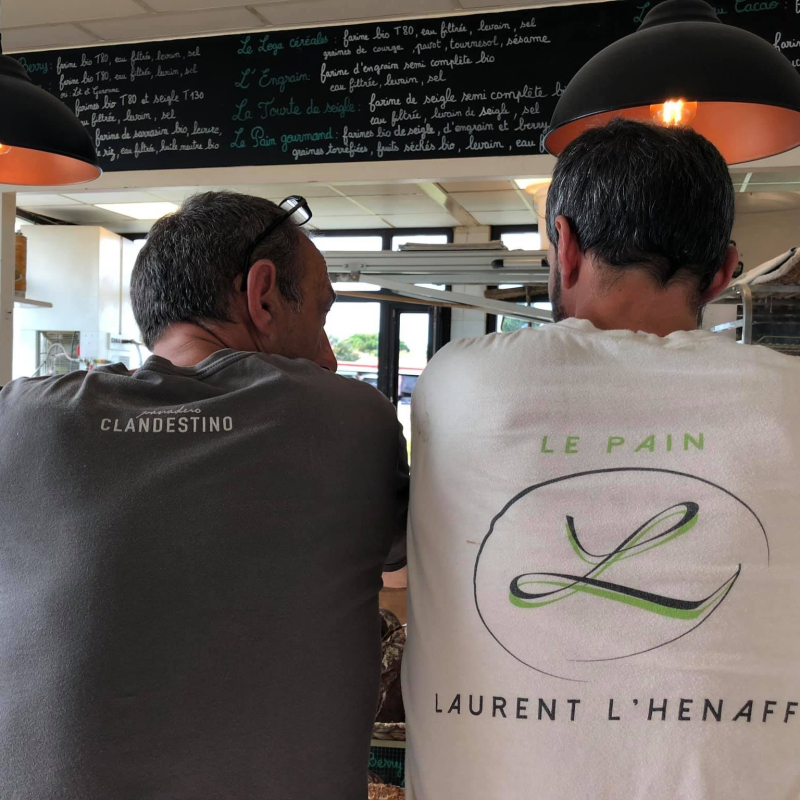 Who is Thierry Delabre and what did he do to influence your baking?
He's the guy who started making bread in his kitchen, and as he communicated a lot using social network (Google+, later Facebook), we got in touch, obviously 🙂 He uses ancient grains, sourdough and introduced me to them one day in his kitchen, showing me how the fermentation was the key feature in bread making. This day was definitely the most important one for me on my bread route, since then the numerous talks we have together strengthen our friendship, and obviously his influence is permanent, although each bread produced in the bakery carries my energy.
What memories as a child do you have of bread?
The first one I have is about me baking with my mom, "something" called bread as it was very thick, but I kept one thing: hands in dough, and the feeling it brought.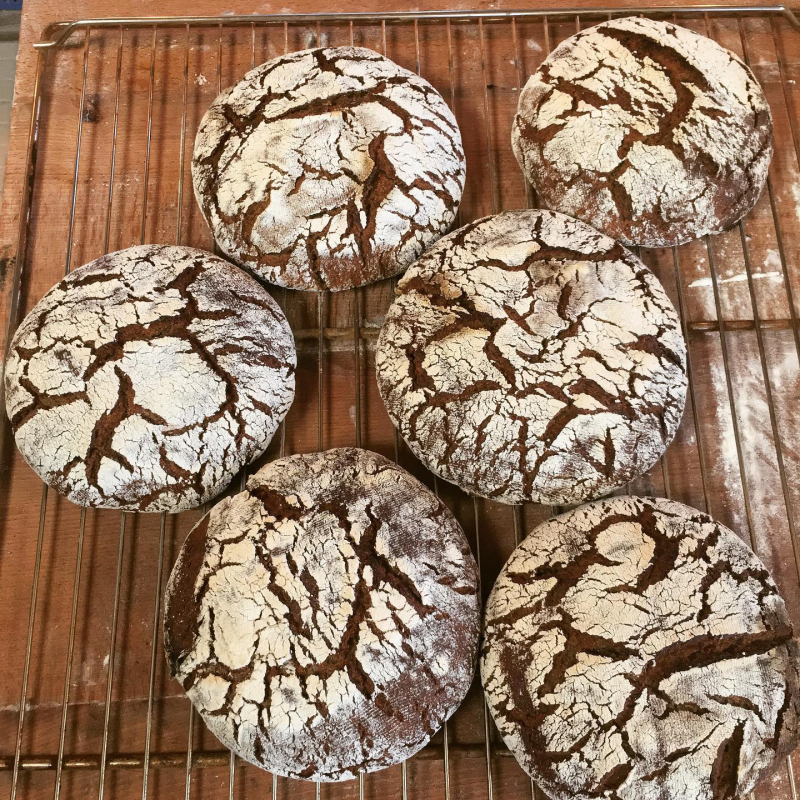 CAP, what is it, how difficult is it, is in important?
Necessary in France if you want to open a bakery, I learnt on my own in my kitchen, of course stressful on the day I had to make bread in the facility as I had no clue how the devices worked: oven, proofing cabinet, rolling mill… I passed nevertheless, painfully. This exam proves you can bake, but I choose to work with 100% organic flour, ancient grain, and sourdough. I could have trained to get the CAP in a classic facility using classic flour, full of add-ons and producing unsigned bread, it would not have helped me today, this is why I decided to pass the exam on my own.
What is your favorite bread grain?
Each one I use has its own signature, they are all so different, texture, taste, baking those grains is a day to day challenge, my preferred bread I'd say is the rye bread, made with a 100% rye flour.
Levain or levure, or both?
Levain, definitely, but we also use levure in the bakery like in ciabatta, brioche, cocoa bread for instance.
Is French bread in crisis or Renaissance?
Crisis. Huge companies set their bakery at the edge of town, easing access, and consumers get in rather than getting into towns, so lots of bakeries in villages get closed every year. Also, there's not much difference between bakeries as most of the time the flour is very similar, it's the baker's job to look for quality flour, quality ingredients. You can't make good products using low quality ingredients; the key to the success is quality, no other word.
We are only a very few of us baking with ancient grain and sourdough in France, but more and more bakers (most of the time who had an initial professional experience before) understand the interest in feeding people with good bread made with organic products.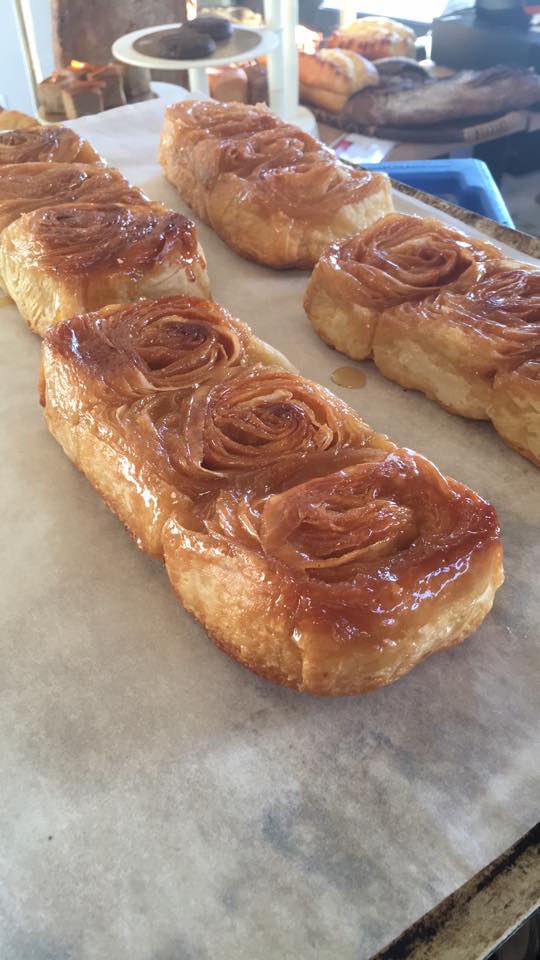 Why is Kouing Aman, a Breton specialty, making a resurgence even here in the USA?
Really? Happily surprised 🙂 Kouign-amann (which means in Breton buttered cake) was initially made using bread dough, in which you add butter and sugar like a puff pastry. I changed the recipe to get a lighter cake (still using butter and sugar of course) but the objective is to have the very specific taste which can only be found back home (yeah, I'm Breton…) and at the same time to get a light cake in mouth. I make it very Friday, about 25 of them. They are all sold most of the time prior to being baked.
What most symbolizes French bread?
Crust 🙂
Is bio marketing working well in France?
It is, unfortunately like any other marketing the quality is not there all the time, especially when held by big companies. I work directly with farmers who grow the wheat, and mill it, no one in between us. A trusty relationship was built over the time, and we both appreciate it.
Ancient grains, is it branding or marketing scheme, or just better product making better bread?
You definitely get flavored bread using those grains but as I said above, each grain is different so you got to agree to think each bake, and not simply add ingredients and let it go (even more true using sourdough…). Those grains' production is lower than conventional too.
What or whom inspires you?
Creating new products is very motivating.
What describes a good bread, crumb, taste or shape?
You see it first, so the shape, then crust and taste in the end.
What is your favorite part of baking, mixing, shaping or baking?
Shaping is the most sensual part, mixing is the most stressful, and cooking is the most exciting 🙂
END OF Q&A