Years ago, I  heard about a Sicilian miller using ancient grains to produce world class flour that yields first class breads. Later I had the chance to meet the man in New York, thanks to the Bronx-based Italian food importer Gustiamo who introduced me to Fillipo Drago. Then in the summer of 2015, I had a chance to visit Sicily and go to his mill, Molini Del Ponte in Castelveltrano. Since then we have reconnected whenever he visits New York for various food shows, among them the Fuori at Gustiamo's warehouse. Today he shares his story on Stir the Pots.
How did you become a miller?
I became a miller because I followed a passion of mine. My father's company was my playground for me as a child. My father has the merit of my great love for grains and flours.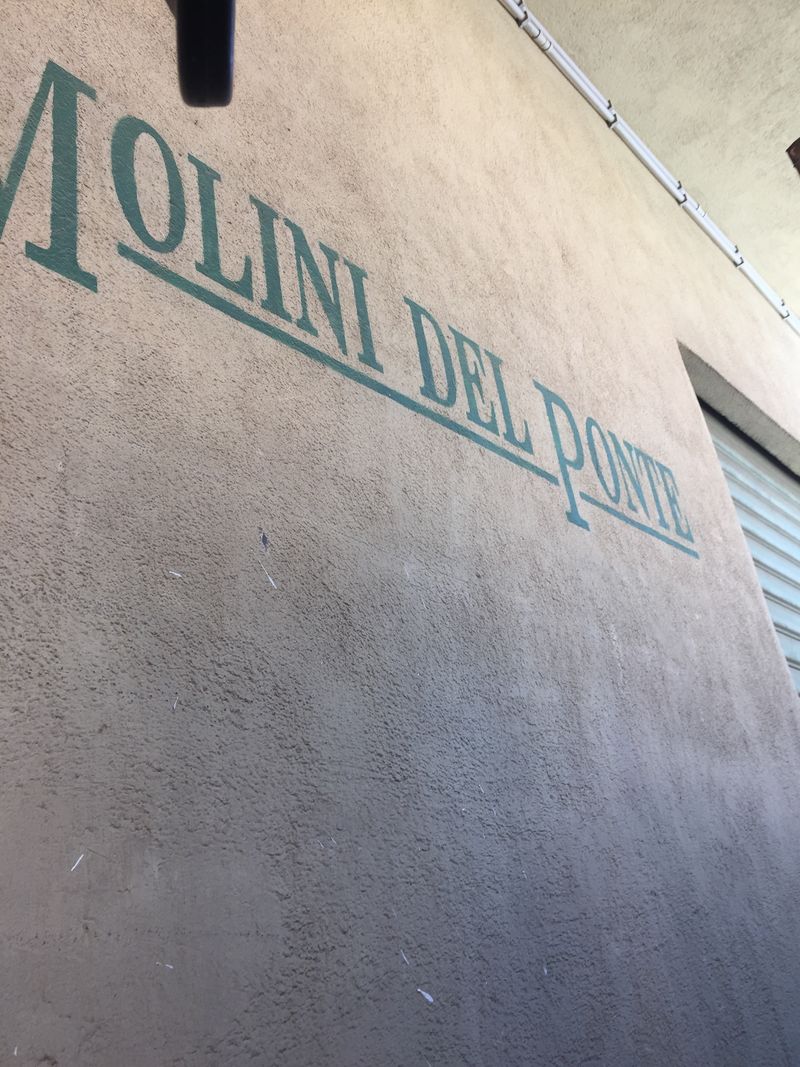 What is the legacy of Sicilian Castelveltrano flour compared to that of the boot of Italy?
Sicily was the granary of Italy since the time of the Roman Empire. Even Charles V, his beautiful kingdom, the sun never set, they exported Sicilian wheat all over Europe.
Sicilian Flour brings with it all the scents of the island. Perfumes that are highlighted by the Natural stone milling. Castelvetrano flour differs from flours obtained with grains grown in other regions of Italy precisely because of its flavor. Bring with you all the wild herbs that grow together with the wheat. The wild herbs are: Dill – Wild fennel – sweet clover – wild artichoke – chamomile- and others.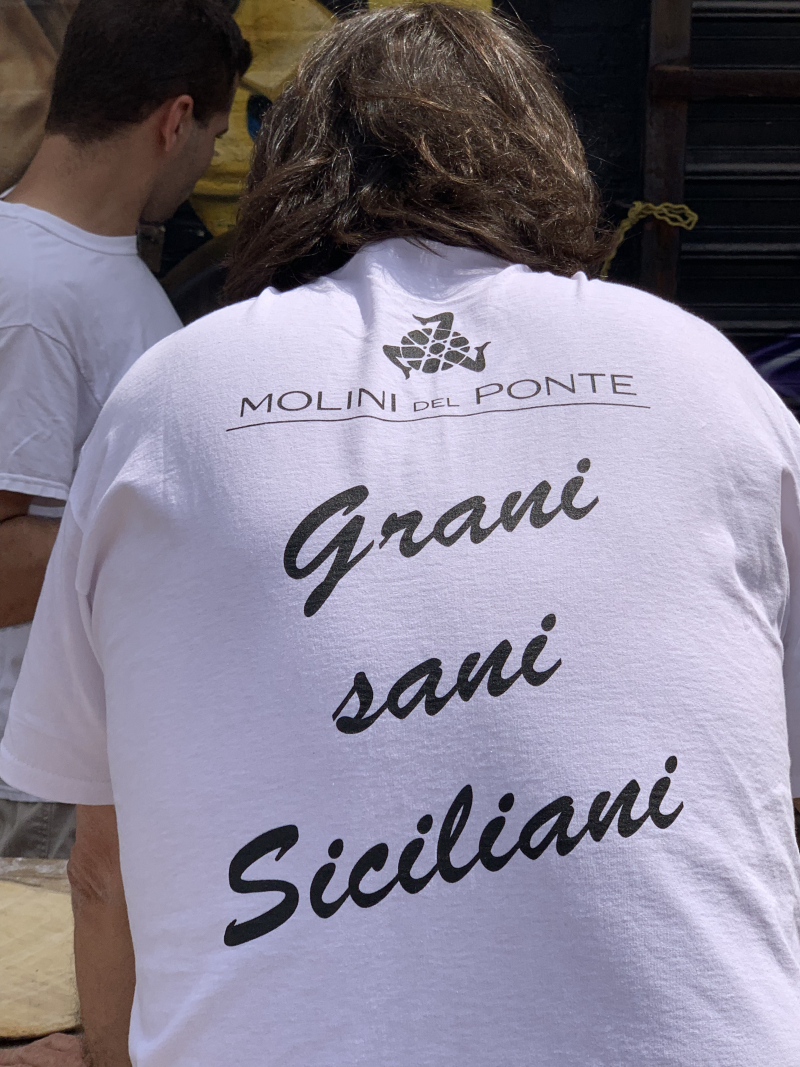 What do the Temples of Selinunte do for you?
Temples are certainly a source of inspiration. I love walking among the tall columns and the narrow streets of ancient Selinunte and strolling in those places where the ancient Greeks cultivated the Tumminia they called Trimeniaios. This grain was already known in Greek times with the name τρεσ μηναιός (three months). Today we cultivate tumminia within the archaeological park as it did 2500 years ago.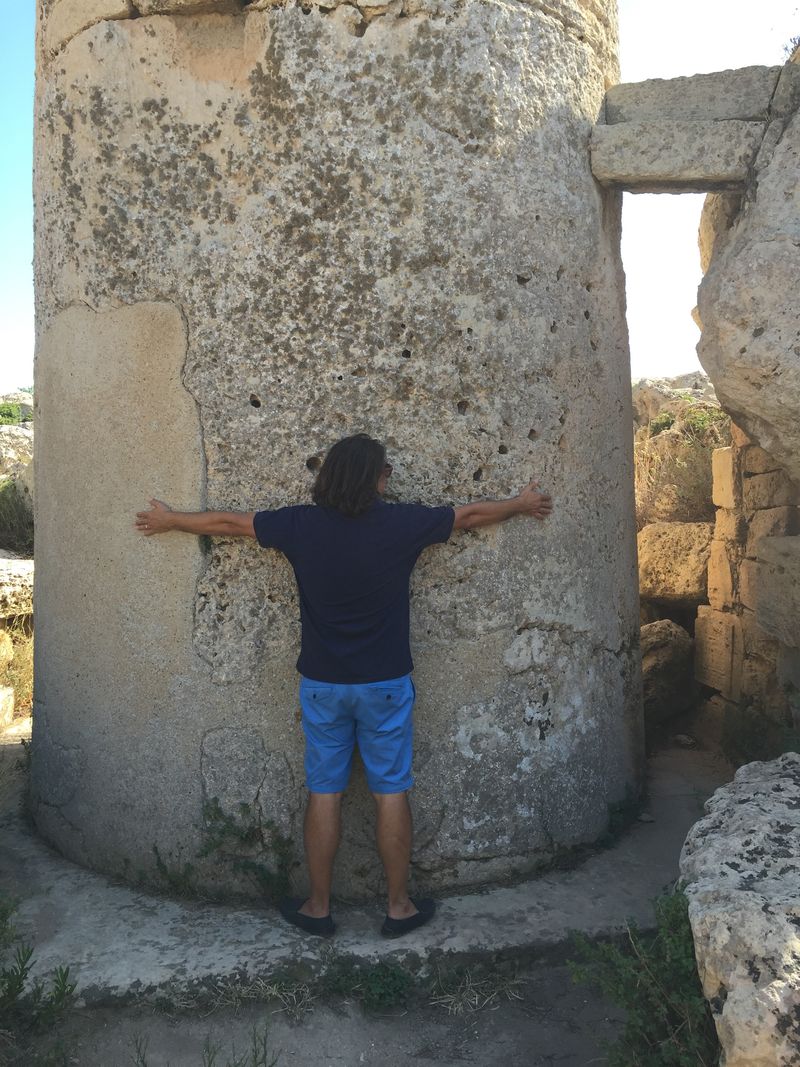 What bread did you grow up eating?
As a child I ate both the Castelvetrano which they called wheat bread or the durum wheat semolina bread. With the re-milled semolina my grandmother also prepared pizza for us.
Is Sicily still the granary of Italy?
Sicily still produces a lot of wheat today, but Puglia is in first place. A lot of Sicilian durum wheat is still exported today but there are so many hectares left fallow around 200,000 hectares. Many jobs could be created if we went back to sowing as in the past.
How has climate change affected the types of grains of the ancient varieties you grow?
Climate change has not given problems to the cultivation of wheat in Sicily
But you should ask an expert for confirmation or a more in-depth answer.
Maiorca wheat, is it the same as the xeixa of the Balearic Islands in Spain because it is also used to produce a Pa Moreno (Black Bread)?
Maiorca wheat or mjorca is a type of ancient soft wheat with a fast ripening white grain, cultivated for centuries in Sicily especially in arid and marginal soils, it has always been considered as the synonym of soft wheat and its flour synonymous with flour for sweets. In the recipes of Sicilian desserts, in ancient times the flours 0 and 00 were not mentioned but they spoke exclusively of Mallorcan flour. With this flour, wafers, white breads, breadsticks are also made and sweets are produced, especially biscuits, such as the San Cataldo ciambelle, moreover, this flour is an ingredient in royal pasta. Historically the shell of the Sicilian cannoli was born with this ancient flour typical of the island tradition.I don't know anything else about Balearic wheat.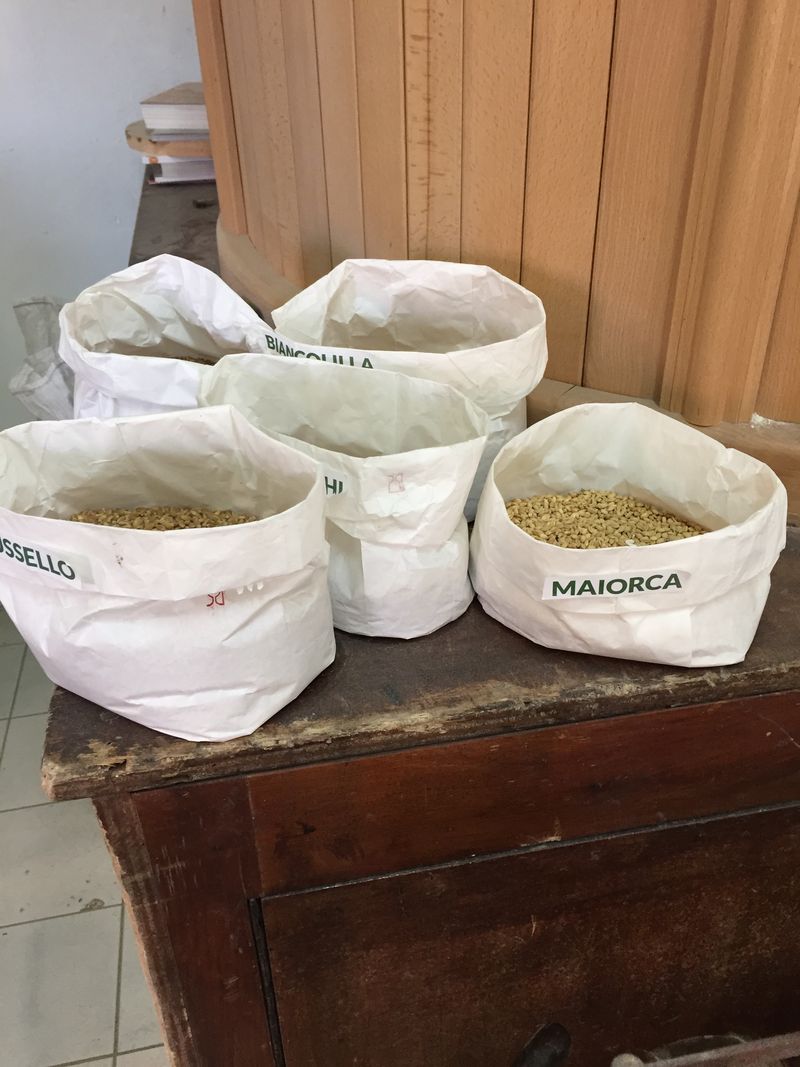 Do you prefer the stone mill or milling cylinders?
For grinding I love both mills. Each one has a characteristic. I love stone milling for perfumes and wholemeal flours. I love the grinding cylinders for the couscous and the re-milled semolina.
When did you found Primula verde?
Primo la verde  came from the desire to market the typical oil of my city of Castelvetrano
In 2015, I bought a farm with about 1200 Nocellara del Belìce cultivated plants
In 2017 the first bottle of green primrose was born. We harvest the olives by hand in October. Olives are ground the same day as the harvest.
Are you completely organic or organic?
Mostly we grind grains from organic farming. But in our process we also produce non-organic flours, it is essential that all the wheat comes from Sicily,that is, we do not grind foreign grains and we do not grind grains from other regions of Italy.
Will your other flours arrive in America, Perciasacchi, Rossello?
I will ask Beatrice Ughi to also import Percia Sacchi Rossello and other flours, both stone and cylinder, depends a lot on her entrepreneurial choices and on what her customers ask for.
the oil will already be present from this crop.
Is Senatore Capelli ancient wheat?
Senatore Cappelli is not a great ancient because it was born in the early 1900s from a cross of grains obtained by Strampelli. It did not exist before. Commercially, I define it as a wheat of the twentieth century in the flour line of the 900.
How has the pandemic affected your business?
The pandemic did not have a negative effect on my work, on the contrary, we increased sales because many made bread at home. Clearly the world of pizzerias and restaurants was completely at a standstill.
Do you bake bread?
Traditionally at home we have always prepared bread using a different flour from time to time today my favorite is Tumminia flour with Perciasacchi flour. At home I have a mixer with dipping arms, an electric oven and a wood-burning oven with direct heating.
What makes Sicily different from the rest of Italy?
What makes Sicily different from other regions of Italy and the world is the presence of over 50 varieties of local grains a unique climate is the sun that ripens the grain and does not favor the presence of aflatoxins and mycotoxins and the presence of spontaneous herbs that they uniquely identify all my work.
Who influences you?
My instinct and my creativity play a fundamental role but I participate in many fairs I meet many people and from these meetings new ideas and new projects are born
watching, observing and confronting each other is certainly a great source of inspiration for me. Imitate and be inspired but never copy.
New projects?
Our short-term projects will be a biscuit factory for the marketing of bakery products obtained exclusively with my flours and then the restoration of a room to give birth to a pizzeria-brewery at the same time complete the new grain reception and finally create another one for increase the storage capacity of the grain.