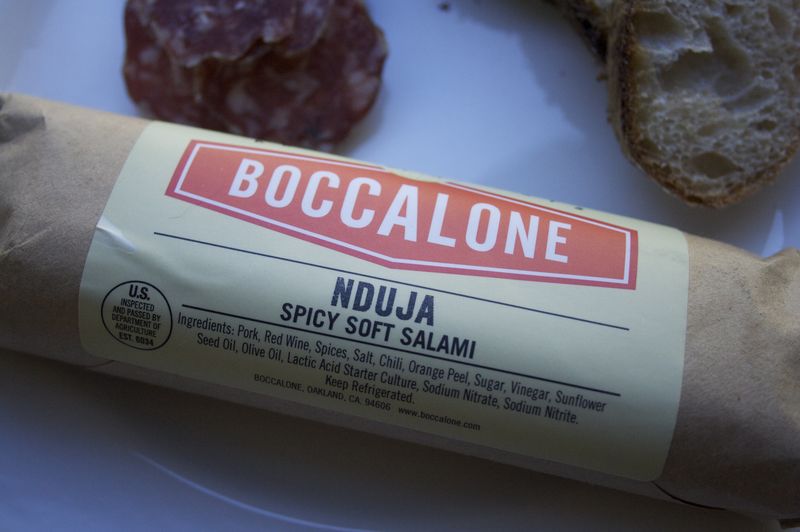 Sometimes it's better to be behind a trend, especially when it's something to do with food. Let other people do the tasting and wait for you and your taste buds to catch up! Other times, well, don't walk for it, run!  Case in point. While walking through Grand Central Market recently, I passed  Murray's cheese's new charcuterie department. Amongst the salsicce, I saw nduja. Yes nduja, that Calabrian soft salami that is the rage in the salumi circles.
According to the folks at Murray's, this particular version of nduja (above) is from Boccalone and pronounced "en doo ya." A waiter at work who is from Calabria shrugged when I mentioned this delicacy from his native land. Apparently it's less a specialty in southern Italy than a regular staple. Regardless, a shout out to these guys who make such fine pig products. 
This recent walk around Grand Central Market reminded me of my visit to San Francisco's  Ferry Market, a place I visited while attending bread school. I still remember my baguettes with their fierce fennel pollen flavored salami, a perfect casse croûte for my walks to class. Hoooha! 
Nduja is made with the head of the pork minus the cheeks, which are saved to make guanciale. A distant  cousin to the French Andouille, the nduja is packed in the lower intestine of its own tripe lining. My first tasting done, I find this spreadable salami heady spicy and ready for some more tasting!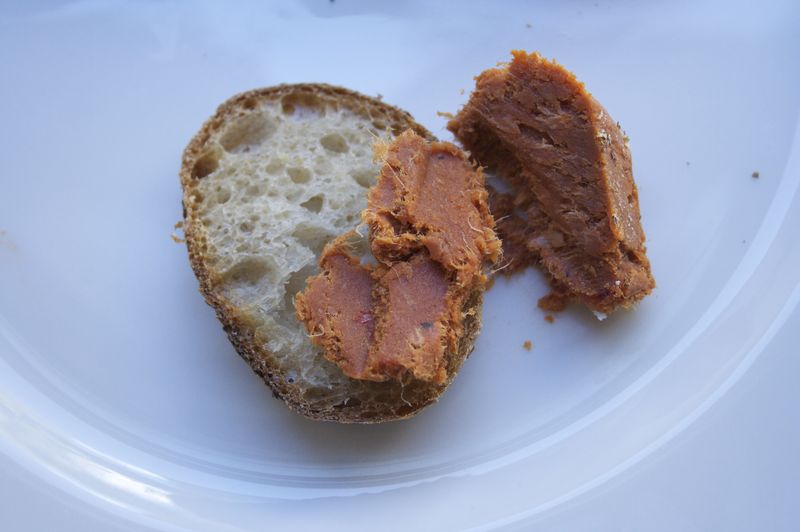 Nudja has that sort mystical aura, difficult to find and legendary among some foodies. Unless you're Calabrian or have visited that part of the "Toe " of Italy, or come upon this delicacy by sheer luck. You might think it were spam (gone funky), or even musty looking botargo. No, it's just a for the strong-hearted, a salami that spreads a fiery new dimension, especially compared to the standard hard salami that most of us know. Nudge, nudge.. go get some!