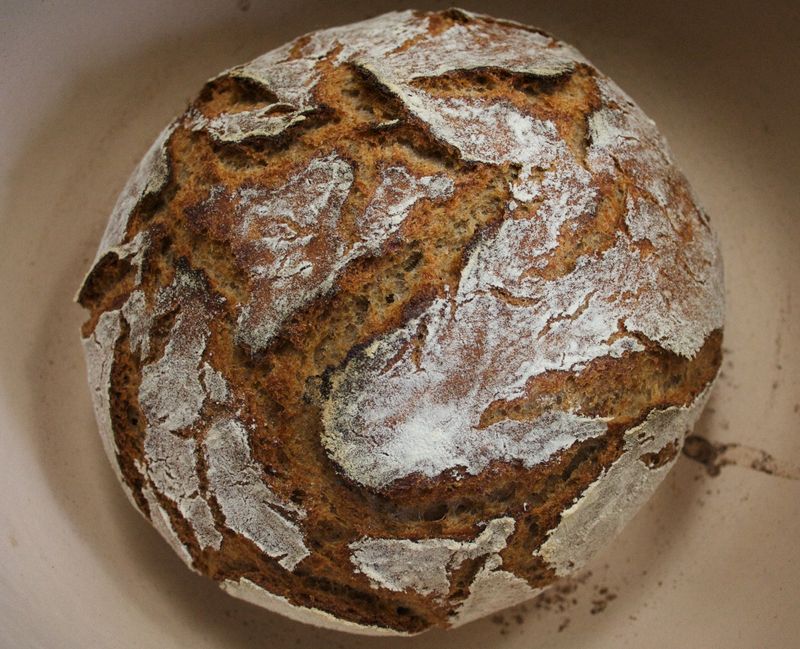 It's warmer this weekend but still winter. Let's remember sweeter days. My mind goes back to some hours spent in Germany. The Rhineland-Pflaz, on beautiful sun drenched afternoon, full of light, great wurst, salads, and of course great hardy loaves of rye bread.
Rye is, and always will be, a staple in my diet, a challenging kind of bread if you haven't considered what makes it tick. Lack of gluten, and a challenge to create the rich tasting moist bread when it can sometimes turn into a brick, whether for new bakers or old ones like me. 
Below are some notes on a loaf I had made in school with a teacher, who had plucked it out of a book and handed out the basics to us for a lesson. Notes from classes for me are always a struggle. You are trying to absorb the verbal passing of a message, then jotting down the numbers.  Generally, what comes out is dizzying mess. All to say, in attempting this, get out your calculators, spreadsheets and a lot of bakers common sense!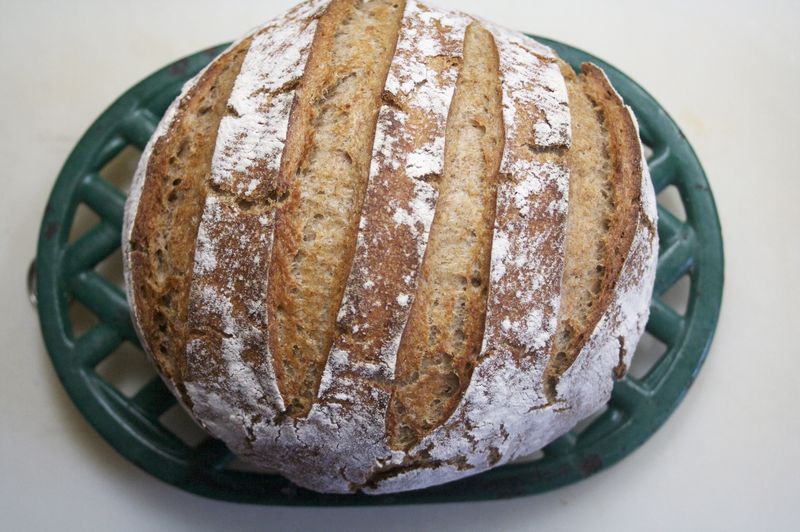 Landbrot nach Heidart (No idea what this Heidart is?) I think the translation is wrong, and must actually be Hirtenbrot, Shepards bread, or even Heidibrot another rye bread.
Here is the version I got from Nick Greco, formerly baking instructor at FCI.
My sole adaption was the exclusion of yeast.
Two 2lb loaves or one huge 4 lb, batard or round mischbrot.
Total formula(minus 2 percent yeast)
60%Rye
40%Wheat
2%salt
65% water
Starter:
270g Rye, (whole rye)
27g starter (I used white liquid levain)
216g water
Fed overnight, about 12 hours till risen.
Final dough:
486g starter
330g Rye flour
400g Bread flour (I used All purpose from Central Milling, organic)
20g salt
435g water
I just mixed by hand till dough came together, allowed to rise about two hours at bulk.
Divided in half, shaped and rose on a board in round mischbrot form seam side up, one loaf. About an hour and a half final rise, but could of been two, not watching the clock, feeling the dough! The breads were  baked seam up not slashed, and one down for the slashed effect.
Baked in a creuset pan at 475 with lid for 20 minutes, off for 15.
Very light shallow slash on the seamside down loaf, and the other seamside baked without a slash!