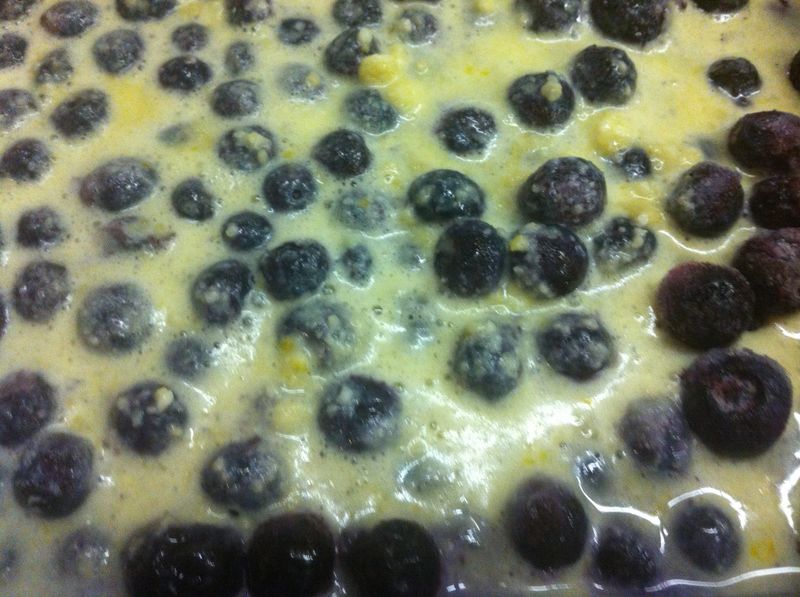 Clafouti. From bluets (blueberries). They're in season. And this is a lovely desert. I first tried it while making my way as a budding cook at the Museum of Modern Art, where our chef had it on the menu. It's usually made with cherries, but get out of the norm and throw in some kiwi, or peaches and bluets. It creates magic from a crustless tart and yet custardy sort of dessert, hot or cold.
It's addictive infectuous, and comes from the heartland, Limousin, a comfort French dessert.
Here's a formula I got from Chef Jean-Michel Bergounoux, it's from Auvergne!
Clafoutis Auvergnat:
500g Bluet, cherries, kiwi or peach..your call
100g flour
2 whole eggs
200ml milk
100g powdered sugar
pinch of salt
30g butter
20g butter for mold.
Pre-heated 385 degree oven
9-10 inch flan mold or cake pan with sides
Butter the mold and set aside. Stem the cherries and wash well, then put them into pre-buttered pan.
sift sugar and flour into bowl, beat eggs and add in small circular motions into the flour sugar mix, start from the center and gradually incoporate the flour from the outside of the bowl. Pour in the milk until your mixture is homogeneous, finally adding the melted butter.
Bake in pre-heated oven for 25-30 minutes till nicely browned and risen, cool and sprinkle with powdered sugar. Serve warm or cold.