Notes from the pages of my French Culintary Institute class in German bread baking are cluttered with numbers, percentages, and flour types. Recently I had the urge to return and see whether, now years later, I can make these breads again, only better. 
The photo above is of a 70 rye/ 30 wheat bread. It was made from medium rye, because I was out of whole grain rye. And I substituted white whole wheat for bread flour. I find in a lot of German bread blogs, bakers use this white whole wheat flour. I don't know if it's for health or just because it's a lighter wheat. Anyone reading have an answer? If so, share it.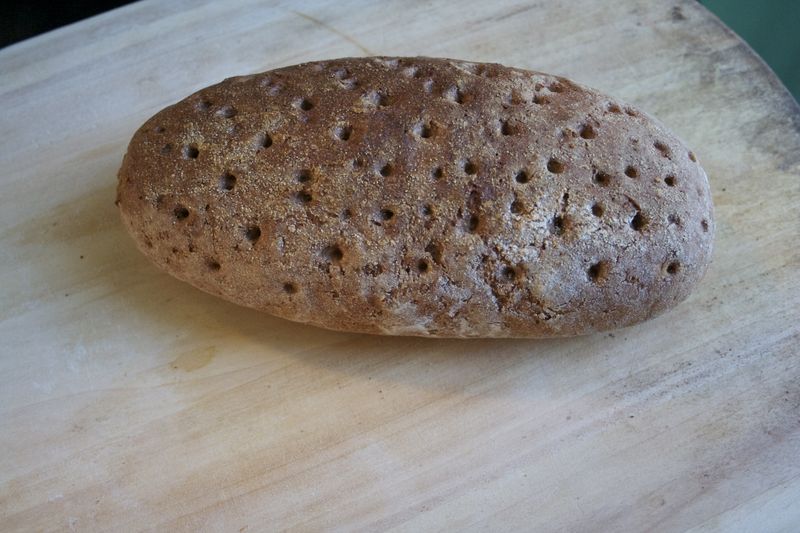 The percentages of sourdough is 30 percent and yes, there is a bit of commercial yeast – about 1.8 percent. The notes read like this;
3 minutes mix on first speed, and a 1 1/2 on second speed,
20 minutes bulk proof, shape and proof in round – I went for a batard shape, though not sure why. 
The final proof was 50 minutes in the notes,
Baked at a high heat of 480 F, and I assumed if the loaf was larger, there would be a note of lowering the temperature in the final minutes.
My next mix will be 30 wheat 70 rye, so I can see the difference in taste, flavor, which in this one is very grassy, I may even up the salt, as it seems a bit lacking…
Notes, take them when you bake, they are a good source of information and stepping stones to successful baking, I know!