I love scones. And quite often my wife asks me to bake them. The store-bought scones are often dry. And they're actually easy and fun to prepare at home. Besides, topped with jam…. ha! They require basic ingredients; flour, butter, cream, baking powder and whatever your latest flavor quotient, whether dried fruits or orange zest etc.  
Lord, knows you could find a recipe in any old book, but last weekend having time (due to nasty New York weather) I decided to try (and share here) a fabulous recipe from the great pastry chef, Dieter Schorner.
 Dieter's are called "Savoy Scones," undoubtedly from his days working at the  the famed London Hotel. In the past, I have also made the version from Michel Suas's Advanced Bread & Pastry book, delicious, too! Anyway, below I made some cherry rhubarb cream scones.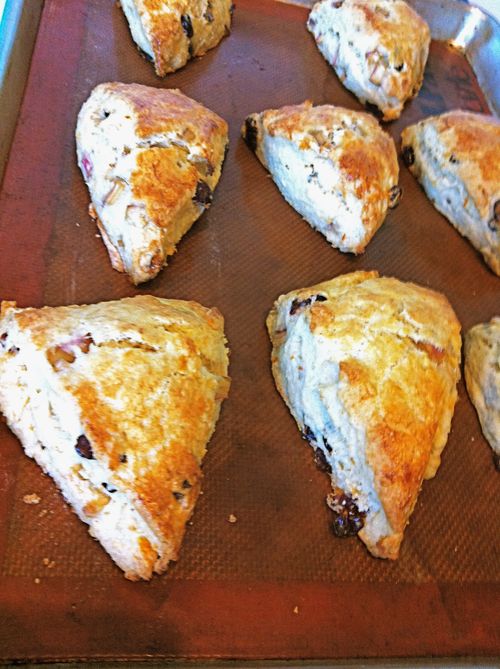 Shapes are always a choice from square to triangles and to the more common round. A good set of cutters are advisable, as using other implements will impede a proper rise if the scone is squished rather then cleanly cut.
Chef Gregoire Michaud also has a an interesting version, sort of a hybrid demanding great attention to detail, and which can be a two day project.
Savoy scone with currants (Sourced from Dieter Schorner)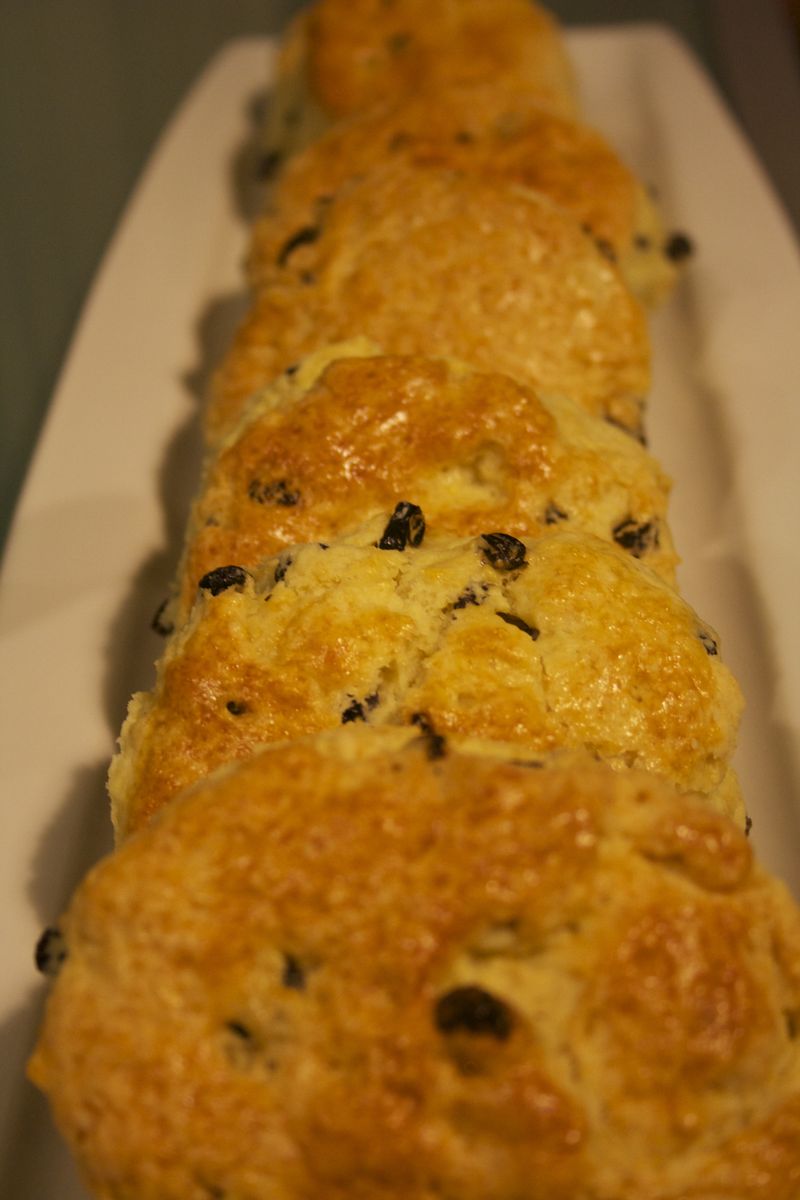 Savoy Scones (Dieter Schorner)
325g Bread flour
105g Butter (unsalted)
20g Baking powder
45g Sugar
pinch of salt
100g Currants
1 egg
1yolk
Heavy cream is added to eggs to equal a total of 200ml combined
Egg for egg wash
350 F Pre-heated oven
Mix dry ingredients, cut in butter. Add cream to egg, yolk and mix. Add wet to dry, with currants till mixed. Don't over mix, be gentle. You could roll out sqaure and cut with a cookie cutter, or round and into triangles. Depending on the cutter size you'll get about a dozen or so scones. Place on a tray, prepared with parchement or silpat, brush with egg wash and bake about 20 minutes till golden brown.
This scone is light, delicious and worth doubling, as you'll find they run out quick!