Luck was with me a few months ago, as a Twitter exchange with Chef Eric Ripert of Le Bernadin (see below) won me dinner. A very good dinner, let me add. 
Yup, I found a photo online of another Le Bernardin, this restaurant in Winston Salem North Carolina. Thankfully I was able to schedule my prize after the holidays, but sadly missed Michael Laiskonis's famed desserts. Anyway, so off I went last week, my normally casual attire replaced by a jacket, tie… an entire suit. I was off to Le Bernadin!
Getting there, the rooms were buzzing. My wife noticed a famous Bollywood actor sitting across from us. What I immediately noticed was great service; water poured, wine list given, then taken away, with an inviting announcement that our wine was "taken care of, already." Remembering some nods and signals made between staff as we entered, I guessed that our Twitter award was going to be worth any need to put my neck under the strain of a suit and tie.  
From that point onwards, everything just became a dance of the senses, each dish's detail and array of flavors, well, I won't be overstating it to characterize it as amazing. Since words won't capture it as well as some photos, allow me to just share a few below. 
Gustare: To taste
The amuse was phenomenal, with us already gulping down some bubbly things were looking good.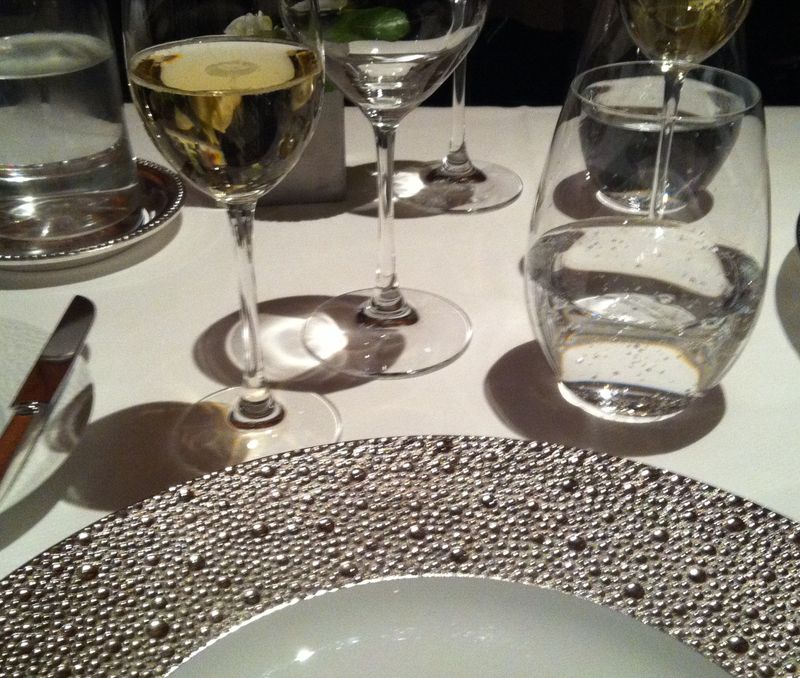 Amuse: Tuna tartare, Sea Urchin, and Butternut squash soup.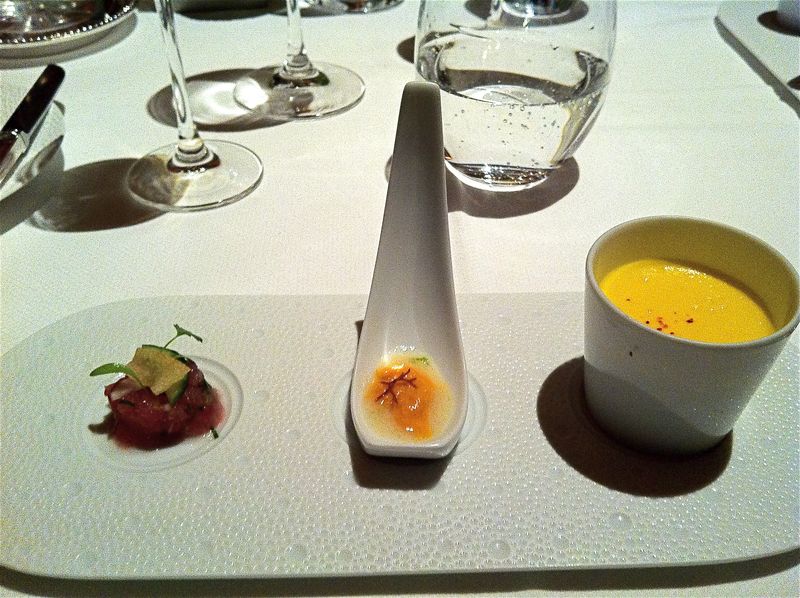 1st Course:
Caviar Waygu Beef, Langoustine and Osetra caviar tartare black pepper vodka creme fraiche and gaufrette potatoes.
Wine: Montlouis "Triple Zero" Domaine de La Taille aux Loups NV
2nd Course:
Tuna: Ultra Rare Yellow Fin Tuna; Spiced Dashi gelée Green Peppercorn Iberico Chutney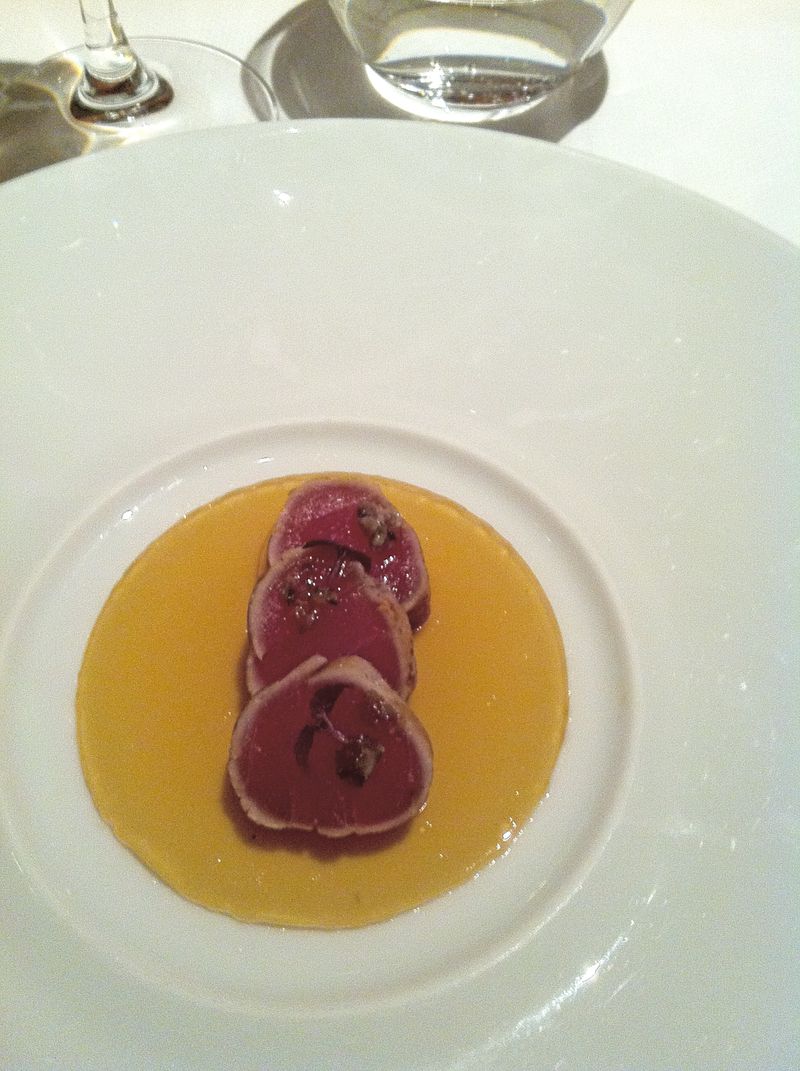 Wine: Chablis "Vielles Vignes, Domaine Savary, Burgundy 2009
3rd Course:
Lobster:
Butter Poached Lobster Tail; Spiced celeriac, Earl Grey -Citrus Sauce
Sake: Yuki No Bosha, Yamahai Jumai, Akita
4th Course: Codfish
Codfish, Artichoke "Barigoule" Perigord Truffle Butter
Wine: Chassagne Montrachet, 1Cru Les Caillerets, Marc Colin 2006
5th Course: Hiramasa (Amberjack)
Laquered Hiramasa; Chayote Squash, Sofrito Broth
Wine: Barolo, Mirafiore, Piedmont, Italy 2007
6th Course: Black Sea Bass
Crispy Black Sea Bass; Pickled Cucumbers Black Garlic-Persian Lime Sauce
Wine: Syrah,Copain, Tous Ensemble, Anderson Valley, California 2009
Panna Cotta
Greek Yogurt, Candied Buhdda's Hand, Basil seeds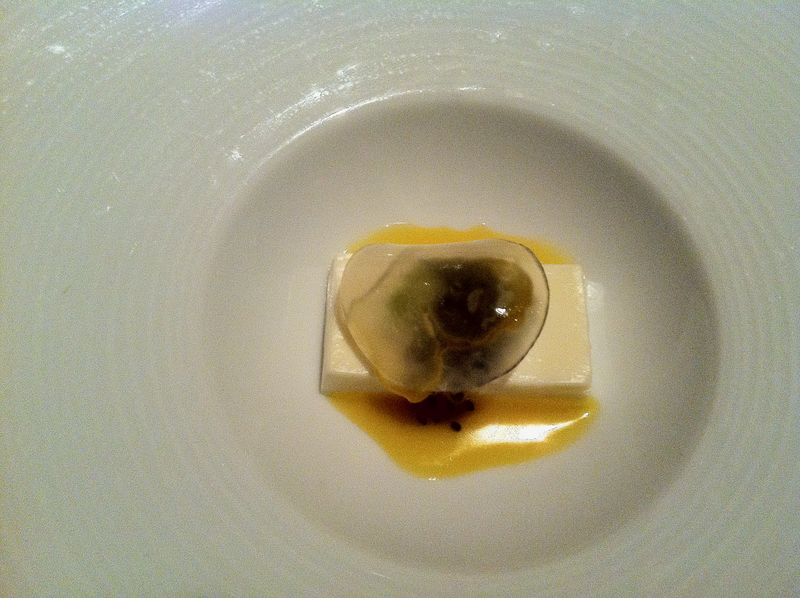 Wine: Torrontés Sparkling, Deseado Familia Schroeder, Patagonia
Chocolate- Olive Oil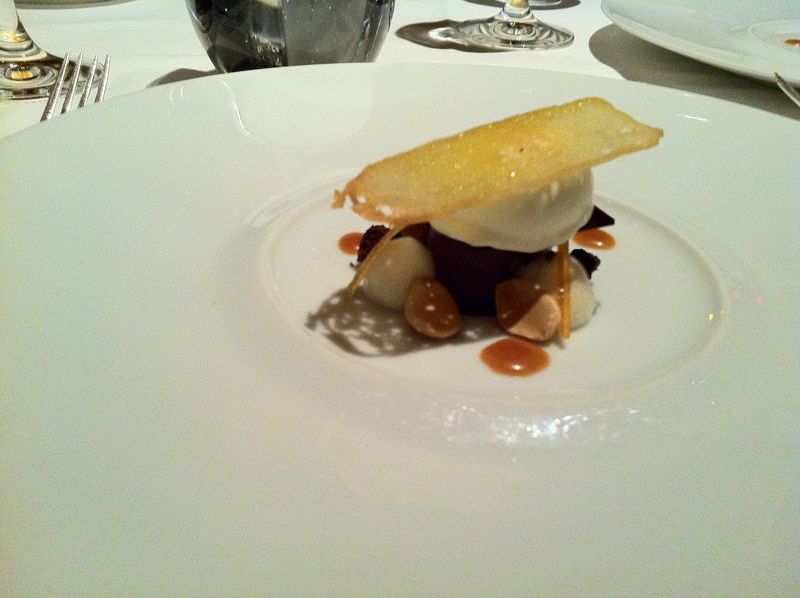 Dominican Chocolate Cremeux, Toasted Bread, Brown Butter, Marcona Almonds
Wine: Passito di Pantelleria- Sangue d'Oro, Sicily 2009
Fin….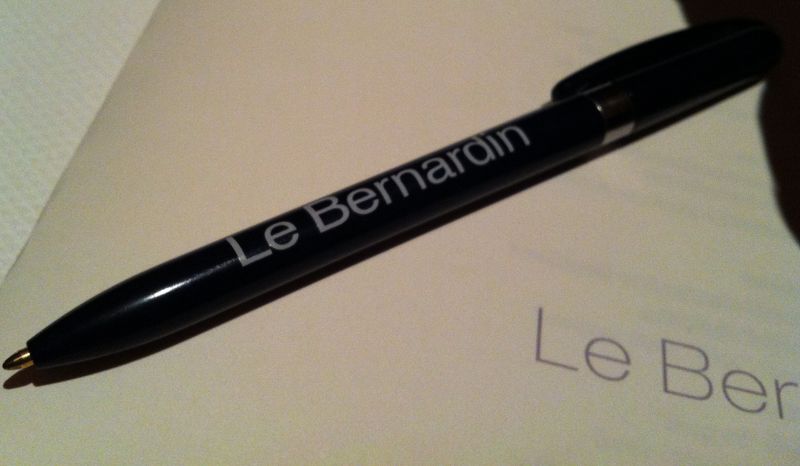 Thank you, Le Bernadin! Thank to your wonderful staff. Thank you, Twitter. And most of all, thank you Chef Eric Ripert. Next time you Tweet a request, fortune be with the lucky first reader.