On my first trip to Istanbul, I was happy to find that bread is a meal staple; from flat lavash to pide and simit. Over breakfast of cheese, olives and honey, one bread really caught my attention. It's called Pogaça, and is a sweet bread enriched with sugar and butter. It is also flavored with mahlab, or Mahlep, the seed kernel of the cherry pit. There are versions of this bread that are leavened with baking powder or yeast , and some even enriched with cheese.
Wanting to bake it, I was lucky to meet a talented young baker named Gökhan Sökmen who shared his recipe. But I actually didn't get to try baking it, myself, initially. I first gave it to Susan of Wild Yeast who took the challenge of trying this formula (see the original hand scrawled Turkish note), addressing the weight issues into a workable baker's percent. Susan gave it a go and, now, I decided to do the same!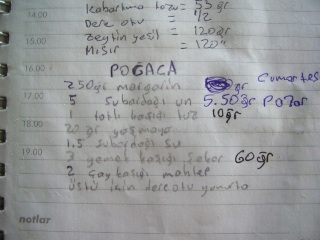 After several times writing and re-writing the formula, as well as changing it to levain and using olive oil for a healthier profile, here's what I got. I am pleased.
Always good with olives, cheese, honey and Chai.