I first was introduced to baker Ben Rogers by Vincent Talleu. The two of them had baked together in England. Since then I have enjoyed the fantastic videos of this talented former cook who now focuses all his passion on bread. I'm happy to interview him here for Stir the Pots.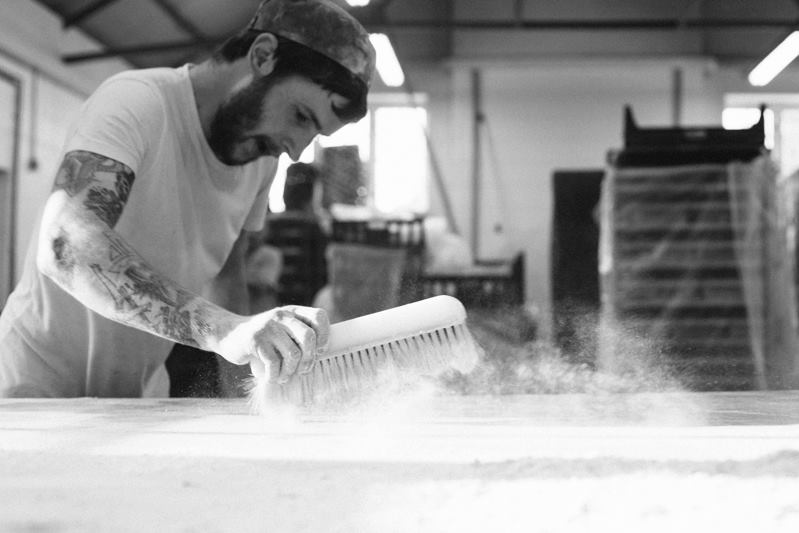 Where do you bake?
At the moment I work so a small group of cafe called Brew. We currently have five sites across southwest London. In Clapham Junction. We make everything we can in house so I take care of the bakery and make sure all the sites have nice bread to serve. We also have our own butchery and supply all the ham and bacon, and we age our own steak.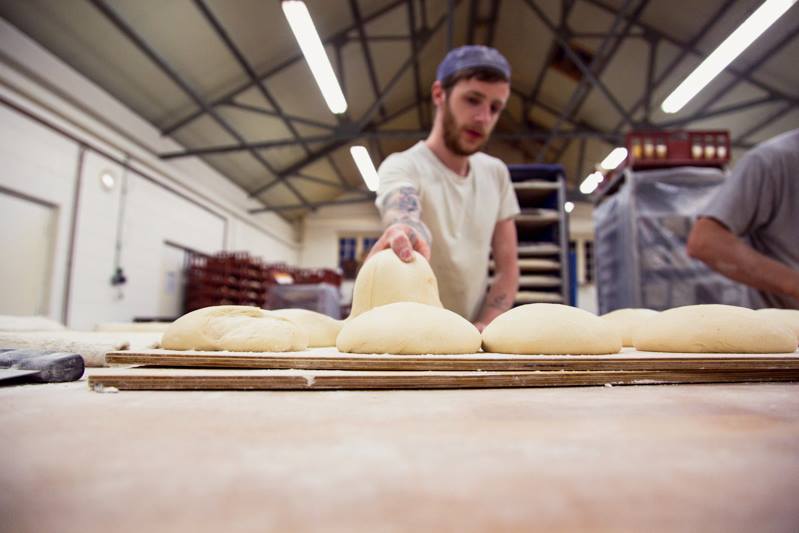 How did you become a baker?
I worked as a chef for ages. And if I'm honest I never really liked it. Never a nice day at work as far as I'm concerned. But by chance I got a job in a little country house hotel and they made their own bread there and that was it for me. I was all about the bread. I was getting up early and it wasn't a problem. I had that quiet time in the kitchen before anyone else was awake and I could focus on what was happening with the dough. And I was always interested in how it was always different each morning. And I was building my own starter (I called her Margaret) and making bread with that. It was great but then I had to work all day in a busy kitchen. I didn't like that part a bit. It became obvious I should just do the bread part, so I found a job as a baker.
What sorts of breads do you bake, and is it a combination of wild and commercial yeast?
The main loaf is a sourdough loaf, No commercial yeast. It's short bulk and long final. I use a stiff levain – with 60-percent hydration. I like to use a little whole meal flour for the levain and final dough. I think it does make a difference to flavor but you still get a nice webby crumb from the strong flour. It's a nice loaf I enjoy baking it and eating. As with anything, it could use some tweaking.
We also make a Focaccia. Nice loose dough with plenty of olive oil. We bake that really hot and fast to get nice bubbles and then add plenty more olive oil brushed on top. It's the one bread I would like to do more with because we are really lucky to have great suppliers. And the gardener has just planted lots of herbs so I think it should be rich pickings soon for focaccia toppings! And then we make a brioche bun. Silky smooth dough and lots of butter. And lots of eggs so the bun comes out really fluffy and light.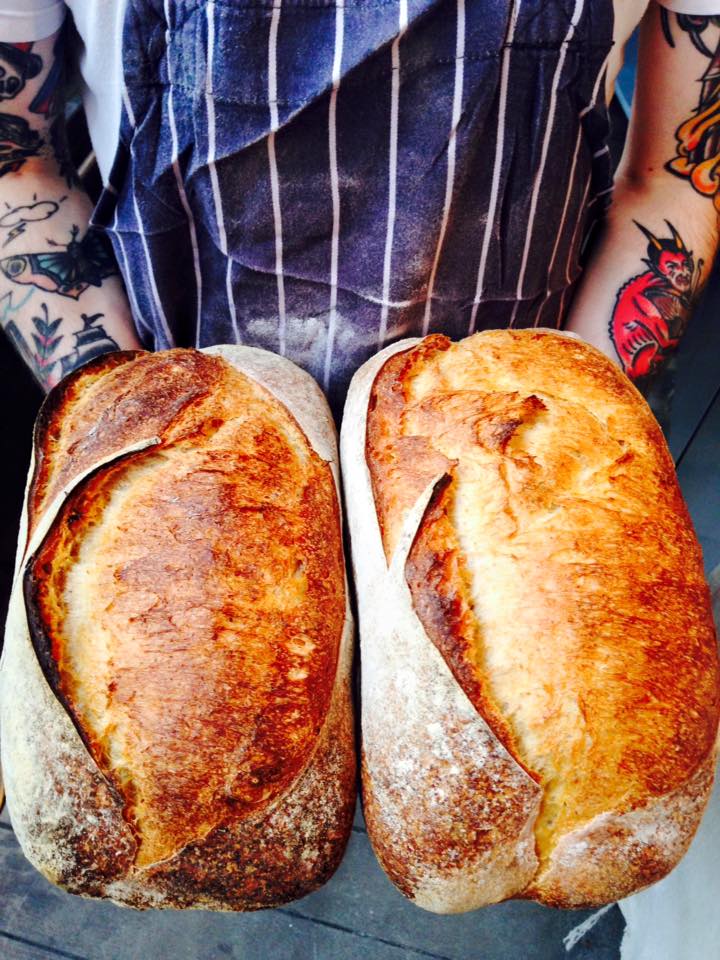 How's the state of baking in the UK with the slow bread campaign etc?
If I'm honest ,I don't really know. I'm quite disconnected from social media now because I don't have a smart phone. So I'm pretty out the loop as far as the wider community is doing. I know I'm still going for it [slow bread]. For me, it makes sense and I know I won't be the only one. I think that's the charm of being a baker. I still speak to all the bakers I've ever worked with, so that's a good sign of a strong community
Give some pointers to people who want to learn to bake, what are the first steps to understanding bread?
Just bake lots. Bake with as many different bakers as possible. Make little changes every time you do it.
Do you bake some English style breads; Cobb or, say, Bloomers?
What's a Cobb? Bloomer is just a big white yeasty loaf I think.
Next question. What's the larger global resurgence in bread about, and how does artisan fit in to the daily bread people eat?
I think people are generally more interested in where their food is coming from. You don't have to be a genius to look at that stuff you get in the super market and know its shit. People like to put a face to their food. And good bread just speaks for itself.
Who's a big influence for you in baking, heroes and mentors?
I read a lot about baking and watched loads of videos when I first start baking. So Jeffrey Hamelman was a big influence. I also spent lots of time learning with Vincent so he has mentored me a lot. And of course Aidan has given me plenty of golden advice.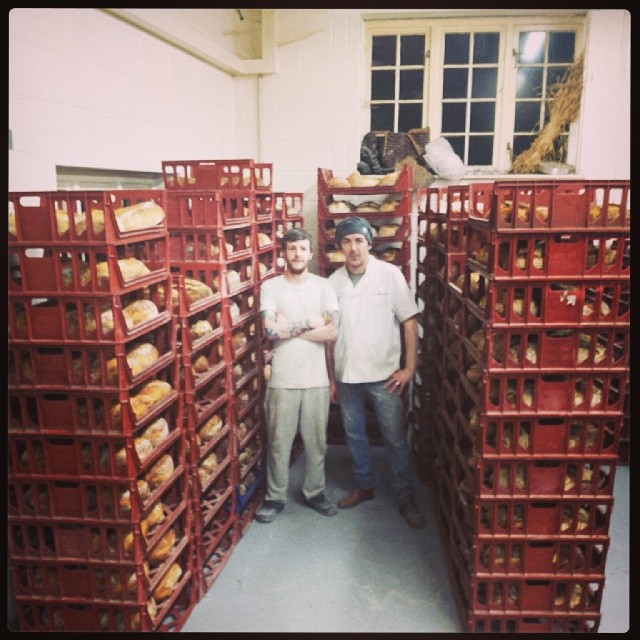 Is the baking community working together to build up good bread and educating other bakers?
I think honest and true bakers are somehow always friendly people. Every baker I have met has been nice and friendly. Even if you're away from home and you walk in to a new bakery, a proper bakery, and you tell them that you like bread or are a baker, and you will probably be able to make a new friend within five minutes. Trying to figure out how each other does a certain thing. The instant bond of sharing among bread geeks.
What's your favorite bread?
I just really like bread. I like bread made with love and care. I also like bread with seeds. I think the best bread memory I have is the Stoates loaf with seeds and malt. It's from a place called Flint Owl where I worked. I tried it in the first week and I remember almost fainting, it was that good.
Do you use ancient grains or heritage in your mixes?
Unfortunately not. Its something I'd like to learn more about.
 Do you combine other sorts of business within your current work; say café and bread or food?
Like I mentioned, I work for a small group of cafes. And the actual bakery site is in one of the cafes. We pretty much sit in a big glass box in the back of the cafe. It's pretty unique. The Butchery also has his own fish-tank-type glass architectures so that you can watch the butcher making Chorizo and slicing the many kilos of ham and bacon.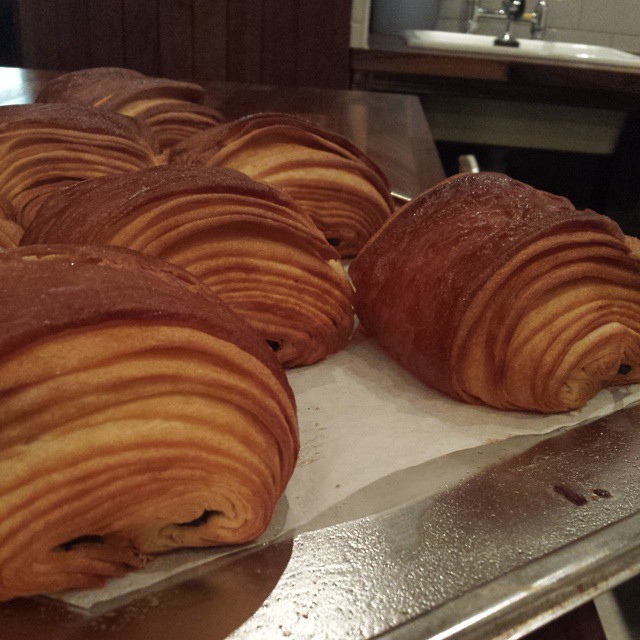 Who is Vincent?
Ha! I knew you'd have to drop a Vincent question in! I've mentioned him already but really he was the first ever baker I properly worked with. Somehow I managed to get an interview and then starting working with him. I was very lucky to have such a good introduction. I liked the fact he slept in a camper-van outside the bakery in a nearby car park. He taught me lots and lots and lots. He's a cool guy and a great baker.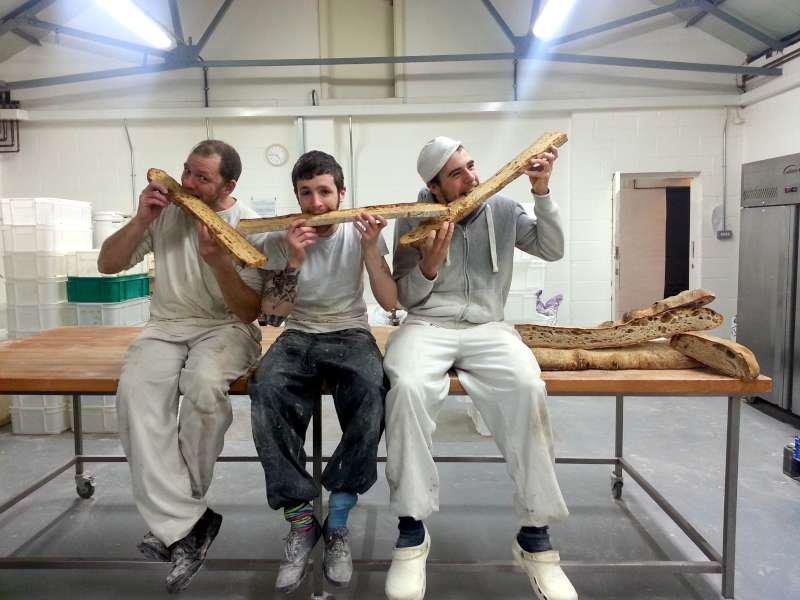 Do you want your own bakery?
I'm pretty sure I would never open my own bakery. As much as I love making bread, I would be worried running a business. All the stress would take away from the fun of baking.