When it comes to essential foods, few people would think of breasts. Specifically female breasts. An Italian photographer would like to change that notion.  
'
"Breasts are the first food for everyone," she wrote recently. "It's ancestral."
Living in Rome and publishing her thoughts and photos under the pseudonym "Mary Stuart," she runs the Facebook-based blog, Tette E Cibo (Breasts & Food), a site that features whimsical food photographs and a serious mission. This photographer is using her eye, imagination and body to bring greater awareness to the Italian League Against Cancer. Each post features a photograph of the author's breasts framing a dish of food. We invited this author, photographer and activist to come into our kitchen and tell us about her blog. Below is what she shared.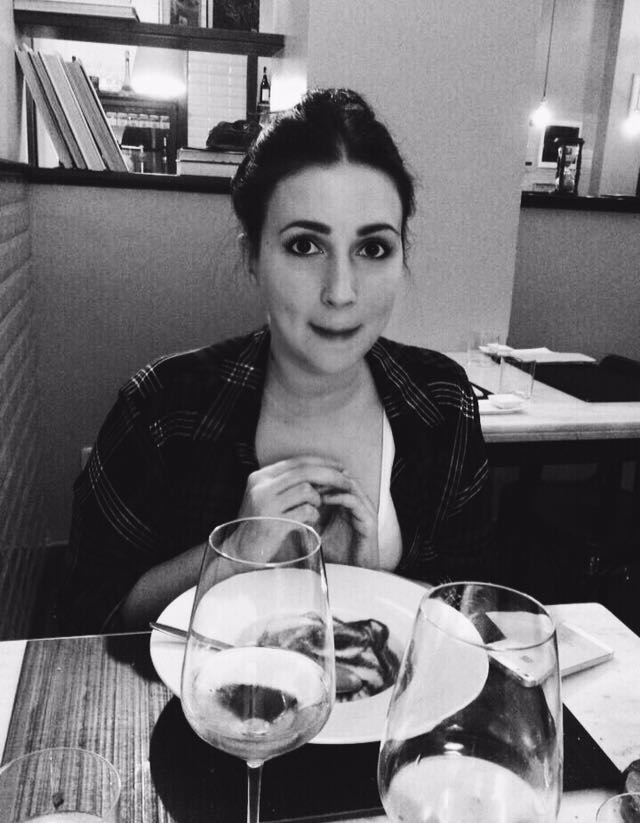 What is the story behind Tette é Cibo?
The first "Boobs and Food" picture was born on the 15th of August. It was meant to be a funny and impromptu post. I was preparing lasagna for a national feast we celebrate that day. I was cooking in my bra because it was very hot, and I told myself it could be fun to take a picture of the bolognaise with my breasts. It should have been one shot, just for fun. Instead it stirred people up, and many people highlighted how breast and food was a perfect match. Since that day on the 15th of August, I have posted daily photos of what I eat together with my breasts.
I'm also using the popularity of my blog to publish a book that will be sold to raise money for the Italian League Against Cancer. I'm doing it with some professional chefs and illustrators. We will feature lots of recipes and each one will have a photograph, like on my blog. We will talk about women and food in a funny and aesthetic way. And it is also a good occasion to raise some money for the medical research.
How do you decide what to photograph – for instance do you ever focus on seasons or markets – or do you just concentrate on what you're eating on that particular day?
My photos depict the eating habits of a normal girl who cooks for herself and for her family.  Sometimes I cook more elaborate dishes and some times simple ones. Some times frozen ready-to-eat food. NS some times street food. It has no " gourmet or foodie" logic. 
Some days you show a good amount of boobs. From the perspective of the viewer, do you think we can help overlooking the food?
At first look, yes. But since the boobs are always the same, and seen from the same perspective, they become more a frame for the food. The food changes and gets the attention.
I imagine you get a lot of comments. Good and bad. How bad are the bad?
So maybe it is a little simple or even seems stupid. But if it gives me the chance to help someone (my parents and whoever is fighting against cancer), why not? A lot of charity campaigns with naked models have been made for animals rights. Is human cancer is not worth it?
Why Mary Stuart as your pseudonym? 
When Facebook opened I did not want to register my real name on the Internet. I choose Mary Stuart because it brought back funny memories from school. During the fascist period Mussolini had publishers change the name of English names in history books and translate them to Italian. I remember how funny it was to see names like Mary Stuart translated to Italian as "Maria Stuarda." All this for propaganda reasons. Stupid fascism.
Do you design the food – where do you photograph these shots? 
I photograph the food at my house, or at some restaurant when I'm eating outside 
Are you using an actual camera or an iPhone? 
For the blog, it's an iPhone. On the book, the photos will be more artistic and professional. So I'm using a Canon 50D.
Do you think you'll show less boobs when the weather changes? 
Hahhhh! Sometimes I wish. But that would disappoint my followers. I suppose I may have to buy a lot of aspirin.
Your blog sort of reminds me of Yoko Ono's Grapefruit book, which by the way my father was invited to pose for. He didn't do it, calling it crude. But later he admitted his ass was just too flat. Maybe with a better ass, he would have become more well known as an artist.
I don't know this book by Yoko Ono, but this story is very funny! 
If my father were alive, he'd bless you. Tell me, what is your definition of the connection between food and boobs?
Boobs and food transcends the simple food-blog (I'm not a food expert ). It's more like an artistic viral … thing. The only goal is to have fun and laugh.
I'm good with that. Last question. What is your favorite food?
My favorite food is potatoes. Fried potatoes, mashed potatoes, any way of potatoes. Potatoes are everything!
My co-producer on this blog says I sound that way about bread. Though potatoes can have their own charm, as you make clear. Which reminds me of one last questions, do you cook? 
Yes. I do cook. I cook very, very well!