Tivoli Bread is one of my prized baking books, a treasure trove of beautiful photographs and precise recipes. I decided to ask its author, Michael James, to share his stories and thoughts on baking and cooking on Stir the Pots. He was kind enough to oblige. We did an interview online via texting. 
How did you become a chef?
What I enjoyed most at school was sport and cooking, and I didn't have the talent to be a football player so my Dad who was a chef got me a job in a big 5 star hotel in London. And that was the start of my career a country kid in a big intimidating hotel :).
What was the reason you switched from chef to baker?
Mostly because I would stay behind and help out after service or I was just keen to keep learning and know everything about food, I was in a 2 star Michelin restaurant in London and I did the petit four and bread section then went back into cooking so it grabbed me and a young age. It was an evolution from cook to pasty chef then baker.
In the restaurant I worked they either made bread or in implemented a sourdough bread product as I believe everything should be made in house. 
How has bread craft shaped your skills?
I guess with bread you need goof intuition and be able to be intuitive helps a lot. No days are the same, flour changes, the humidity, ambient temp,  the baker and the environment.  And the more I know about bread the more I realize I got to learn from growing to fermentation. It's endless…
How do you think hospitality field will recover or change due to the pandemic?
It's hard we are in a lockdown again… I hope we are use and support local farmers and producers more, support artisan small businesses.  More appreciation from the consumers that what these people do is amazing and should be celebrated. And by not going to cheap and nasty fast food places that cost the earth… literally. 
How hard or easy was it to write books?
To be honest it's extremely hard.. Book 1 was whilst writing a book whilst looking after a small child and running a small bakery in Melbourne. Stress levels are high. It's was like doing service in a 2 star restaurant again. All day for months. Feeling anxious, nervous and trying to get everything precise and correct.
Book 2 was also challenging, singed match 2020, manuscript delivered in December 2020, written in a pandemic whilst homeschooling and trying to be positive doing the writing whilst being locked up. And was written in less than a year. The photo shoot was the day after a hard lockdown that went on for months…that was fun. It had to be :).  So someday I would like to do a book where the timeline is less stressful:) 
Was owning a small independent bakery all that it turned out to be?
Yes it was amazing and challenging.
Dealing with local farmers and local producers was great, making a change. And asking questions. There was no local butter sheets for pasty when we started then I asked around and Naomi at king valley (now closed) and Ben at St David Dairy produced excellent sheets afterwards year and all the trials. So that was very rewarding, now there are at least 3/4 more dairy's making the most butter sheets locally. 
We had the best customers and got to know most of them, and to this day still see them around Melbourne. 
But staff was always a difficult; like have 20 extra children and being the boss of course it all comes back to you. And they love to whine and complain more these days…
Having the Freedom to do what you want to do and use all that experience from cooking to baking over the years was a dream come true and In hindsight we did a lot in a very small space. Big range and big numbers. It became overwhelming at times especially after Chad Robertson came for a week then the cook came out after. 
Next time it will be less is more look at it. 
With a good open bakery …
What are some of your favorite grains?
In Australia we don't have a broad range just yet, but that is changing again by talking to farmers and having our gatherings like grainz this can happen here in Australia. In Australia mine is the spelt from Burrum biodynamics. 
I love the øland wheat hopefully more in Australia soon 😉
Oh and anything to do with the population/landrace wheat's that's the way forward to grow for the environment and with the environment. Natural biodiversity is key.
Where does your baking inspiration come from?
Oh good question…initially it was Dan Lepard  I was a broke cook going to the big posh stores in London like Selfridges and Harrods and I would read Dan's book on my break, then I got Chads Tartine book like so many others and that inspired me further. Now I get inspired from bakers like Blair at Elmore or Jim at Back door Bread. Mostly books and Instagram. Being inspired then use what's around you and make it your own.
How well trained are workers in the baking industry today?
I find not very. Usually have to un-train them and show them how I do it to be honest. And with Covid a huge shortage of any baker's now.  I like career changers. They are a blank canvas and can be shown my way. I usually don't hire career bakers from large bakeries.  I want consistency and quality. 
Do you think bread should be served warm or reheated in restaurants?
Just warm. As long as it's well made from local flour and made on the day it will be good.
Please don't reheat.
Does in house baking in restaurants hurt the industry, or is it worth the effort?
Worth the effort I did it they all should. Chefs are jumping on the baking bandwagon now since Covid and think the Press thinks are great. Usually it's average. But at least they have a Go and can appreciate the process and everyday skills involved and respect the baker more. They complain as soon as it's a cm out or not big enough when they buy it wholesale from bakeries. So for them to make sourdough and see the differences every day is good…
Why don't people make more baked savory dishes?
Oh I hope they do now with All Day Baking …
It's a culmination of my cooking and baking background. And a lot of what we did at Tivoli road Bakery. And I saw a big gap in the market for a savory baking book. So hopefully that will change;). 
Do you feel like a pioneer using whole grains like in your rye puff pastry?
Um. No I like rye a lot it's under used here
Adding some in gives you more flavor more diversity and more challenges. I did it as after visiting the USA and meeting Dr.Stephen Jones at the grain gathering in WA. I was totally inspired to use a variety of grain and keep it whole. 
What trends are you interested in baking?
None …just use what's around you, keep it local and use more of the grain:)
I don't want to see or eat a tri color croissant :( 
Did you panic or have flour shortages during lock downs?
No I didn't panic. Just got flour from my local bakers friends. 
Then kept on testing for the book and baking for locals :) 
I've been scutinizing your Instagram account and found so many baker hero's I like. Who's a new baker you admire?
Yes I have so many hero's 🙂 from Dan in the beginning to Chad, Justin Gellaty, Blair at Elmore. Bonnie OHara at Alchemy bread.  And of course my friend Ian at apiece.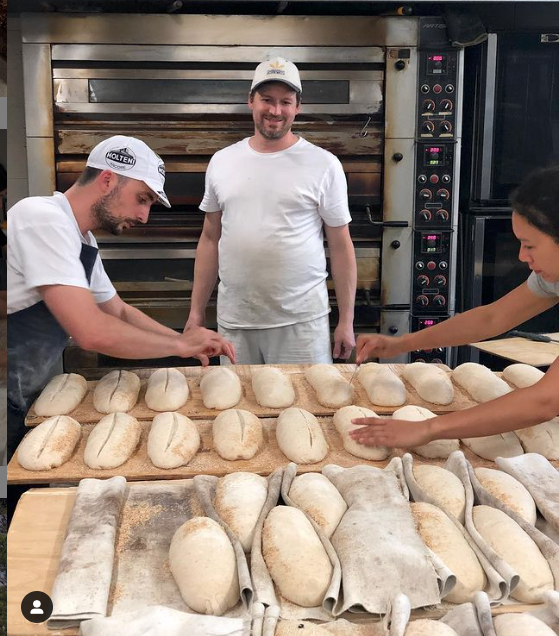 New or newish …probably … Kim at small food in Nottingham UK. Or Matthew Jones in California. Is exceptional baker. 
What do you prefer; Wheat, rye or what other grains?
Depends on what's it's for. For bread, I prefer good local well farmed wheat. 
I like the older varieties they have more flavor. Again that is happening more and more here now, I go to uk or USA. And they have so many varieties of wheat's and populations wheat's it always such a joy to work with and most importantly taste. 
Occasionally rye again I like to use in pastry for flavor and complexity 
And love the spelt we get here in oz .
My favorite was a 100% spelt loaf we freshly milled.
Is baking a younger person's profession?
I don't think so..   It's definitely tough, physically demanding on the body. I believe the older you get you have to work smarter not harder.  And also with everything look after the body good diet , exercise regularly like gym , yoga and Pilates really help for longevity, and with that using equipment that helps with the heavy lifting like loaders, water meters, mixers that dump dough etc..
I'm at Red Beard bakery helping out it's a physically demanding bakery and the heat from the old wood scotch oven is intense. So I'm mindful like with playing sport to stretch and go for walk and Covid permitting go to the gym or Pilates it makes such a difference especially when you get over your mid 30s..
As knives are a chefs tools and sensory by nature, what is a bakers tool box?
A good bakery and baker for me it's Mostly your own hands :) 
A dough cutter preferably wood handled and a good stainless steel shaft to hold the razor I have one from France my friend sent me and is always with me that's about it.
Should crumb be wide open or even?
Kinda even sized and irregular, nothing too big other wise where's the butter or jam going to go?.
Will you write another book?
Yes Hopefully In the future, maybe just one more, if All Day Baking does well then potentially a follow up to it like all sweet/Pastry.
But not yet. So fingers crossed:)
THE END