Photo credit:Joel Blevins of WoodenBarn Media.
Sonya Hundal is a baker and writer who specializes in wood-fired goods. Owner of Greenfield Bakers, a small bakery the rural English town of Friskney in the county of Lincolnshire. I met Sonya when we were both part of a Twitter group called Breadchat, a forum for bakers which unfortunately no longer exists. It's been a few years since we started our virtual conversations. I thought it overdue to invite her in to our kitchen to share her baking tales.
How did you start baking?
I started baking with a bread machine and then the bread machine broke. With its demise I tried recipes beyond the standard overnight loaf and learnt hand -mixing techniques. This kickstarted my interest in the nutritional aspects of bread. I was already using the local stoneground flours from The Maud Foster windmill but I was curious to understand why bread recipes used sugar, milk powder and instant yeast. I took apart a number of different recipes and formulas in order to experiment and a couple of those reformulations are still on the bake schedule today. The two books that pushed me on were Felicity Lawrence's Not on the Labeland Dan Lepard's Handmade Loaf.
The idea of a bakery really came from my curiosity combined with knowing there was space on the property for a business, an excellent local source of flour and no other bakers nearby.
Do you bake indoors or outside?
The wood-oven is sited in a purpose-built bakery. Originally, it was a block of horse stables, without a solid floor.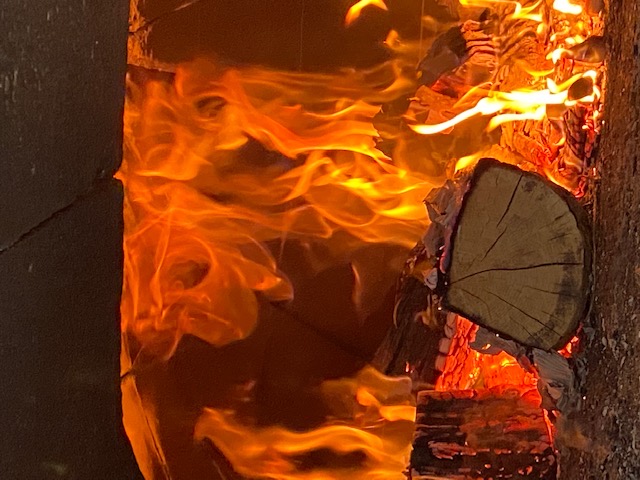 How different is it to bake with a wood-fired oven?
Every baker has to develop a knowledge of the baking equipment alongside their bread skills. The wood-fired oven though isn't a common domestic appliance. Nearly everything about heat and baking we learn through using an electric or gas oven doesn't apply to a wood-fired oven. The wood-oven works on falling temperatures with heat from the clay as conduction, convection and radiation. The firing of the oven is a skill which requires an understanding of the wood, the atmosphere, weather and temperature in addition to the volume and type of breads on the bake schedule. Learning how the oven can be ready when the loaves are ready to be baked is a steep learning curve. I think my major disasters – like the oven not coming to temperature and producing charcoal or a super-hot oven when the bread dough was almost at collapse, lessened significantly after about eight years of baking.
How do you offer your breads: online, markets or both?
I have a weekly bake-to-order scheme for local customers with seasonal ranges as well as taking the bread stall to occasional markets and events.
Tell us about your writing?
My writing came mainly from my work in theatre and performance because scripts featuring a funny brown woman were rare. I studied Drama at Manchester University and continued to write scripts and plays for myself and other performers.
For several years I had a sensible job in supply-chain management and some children so, I wrote short stories for myself and eventually began writing plays for local groups in Lincolnshire. I'm currently a writer-in-residence with First Story, with some published work and have just completed my Masters in Creative Writing.
Can you describe your love of food?
My lunch today was a piece of sourdough with unsalted butter and cheddar. I ate it with an apple followed with some pecans, dried berries and a piece of chocolate. Then a strong cup of coffee. After that, I filled a basket of logs from the woodstore to bring into the house. It doesn't need to be complicated, just needs to engage my senses.
Who inspires your baking?
I have an enduring respect for Joe Fitzmaurice of Riot Rye Bakehouse and Phil Clayton of Haxby Bakehouse who were exactly what I needed to see when starting my business (kick-ass pioneers). The entire list of brilliant bakers who have shared their expertise and offered me support is huge. Paul Tofu of Paul's lent his brand-new mobile wood-fired oven for an event after he'd only met me once.
I also have to mention the support, inspiration and enjoyment from being a member of the Bread Babes along with: Danielle Ellis (Severn Bites), Steph Clubb, Ruth Macintyre (Ruth's Little Kitchen), Ameena Nur (Jeju's Bakehouse), Dilly Boase, Tara Heron (Dainty Monkey Baking). Together we started a revived Breadchat in 2020 and became fermentalists when yeast was scarce.
You are community-centered. How has COVID affected that?
The bakery became a much smaller operation in 2020 and I've decided to keep it small. It was really important during the UK Lockdowns to provide people with fresh bread weekly and the customers have been incredibly loyal. I am focusing on those customers rather than building up a market schedule or other outlets. I've also had the opportunity to write more and it's a balance I'm very comfortable with.
You're a child of immigrants, how has that shaped you?
Well, I have a lot of resilience and resourcefulness. I've been told many times that it was not possible for me to do things (because of cultural assumptions and discrimination) and somehow, I found a way and many good people on the journey.
Do you make Indian breads too?
I make some at home. Maybe I should add some to the bake schedule as a special?
How to you feel about the demise of Twitter's Breadchat?
It was such a wonderful experience being part of it. I loved the connections between professional and amateur bakers with the hilarious sub-threads. It definitely democratised conversations about bread making. Although I miss the frantic keyboard bashing to keep up with the multiple tweets, other groups have followed and kept the spirit of BreadChat alive.
Your favorite grain?
I don't know yet. I feel the need to try some more.
What's your choice of fermentation?
Slow whether it's yeasted or with sourdough. I use low quantities of yeast and levain and work with seasonal temperature changes. Slow dough gives the most consistent results and flavor.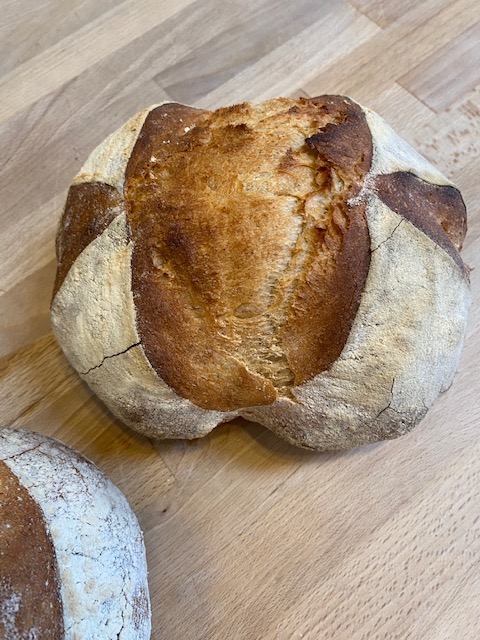 Will you write a bread book?
I would rather teach a person through a course. Perhaps a book about the bakery? There are so many good books already about bread. I have written a book about the bakery for early-years readers though.
Describe the market as your way to capture stories?
I'll just add this link. It's from a publication called Radical Roots.in the piece!(page 20)This was a project with Transported Arts and WEM where I had a market stall and gathered food stories from people in the town of Boston, Lincolnshire.
Have you tried sourdough chapattis?
No. However, there is a delicious fried bread called a puri where the unleavened dough is mixed with yoghurt and left to ferment. It's shaped into dough balls which are flattened into discs and deep fried. They are amazing.
THE END
Below is a recipe for Sonya's Chapattis