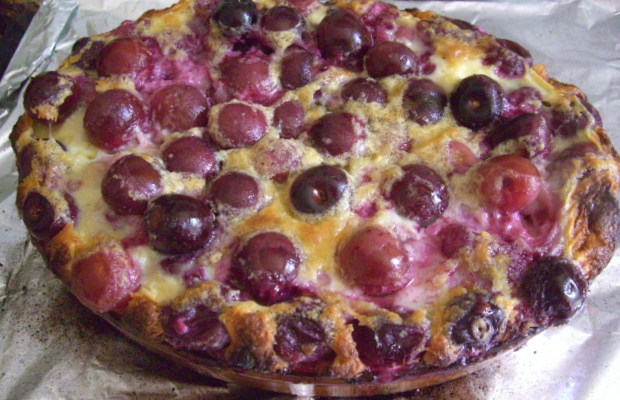 When it's cherry-harvest season it makes me mad I am not eating the lovely red fruit from my sister's Swiss orchard. I hope she has a moment to give this classic of the Limousin region in France a try. One of my first cooking books was Paul Bocuse In your kitchen, a real classic. It has the sort of dishes your mother would make if you were one of those lucky kids in France whose mom cooked. Americans, well… a few still can't figure out why this particular French treat retains the pits; it seems illogical with the custard-cake filling en robing the bursting steaming hot fruit, but the taste gets even more pronounced with notes of almonds.
It would  seem you would choke, no? Not unless you wolf down without chewing, think of eating a fish with bones. But it's the pleasure of dissecting and tasting with your mouth. Maybe a measure of the French way of eating and enjoying food, take human bites and mind the pits. Then just spit em out into your mit and discard with discretion!
After making my first clafoutis for what seems like years,we made one during the July 4th féte at my mother's. Today I made it again at work for the staff. To my surprise, the bartender, who hates fruits, exclaimed how delicious it was! So good that only a few of the crew got any as it was quickly picked clean from the pan. So if you want a taste of the real France, the one I barely remember from my short time living there but with a certainty of a taste for good eats, this is a  winner.

Clafoutis
6oog Cherries stemmed not pitted
3 whole eggs
125g powdered sugar
pinch of salt
80g flour
200ml milk
40g melted butter
20g whole butter softened for mold
Pre-heated 385 degree oven
9-10 inch flan mold or cake pan with sides
Butter the mold and set aside. Stem the cherries and wash well, then put them into pre-buttered pan.
sift sugar and flour into bowl, beat eggs and add in small circular motions into the flour sugar mix, start from the center and gradually incoporate the flour from the outside of the bowl. Pour in the milk until your mixture is homogeneous, finally adding the melted butter.
Bake in pre-heated oven for 25-30 minutes till nicely browned and risen, cool and sprinkle with powdered sugar. Serve warm or cold.