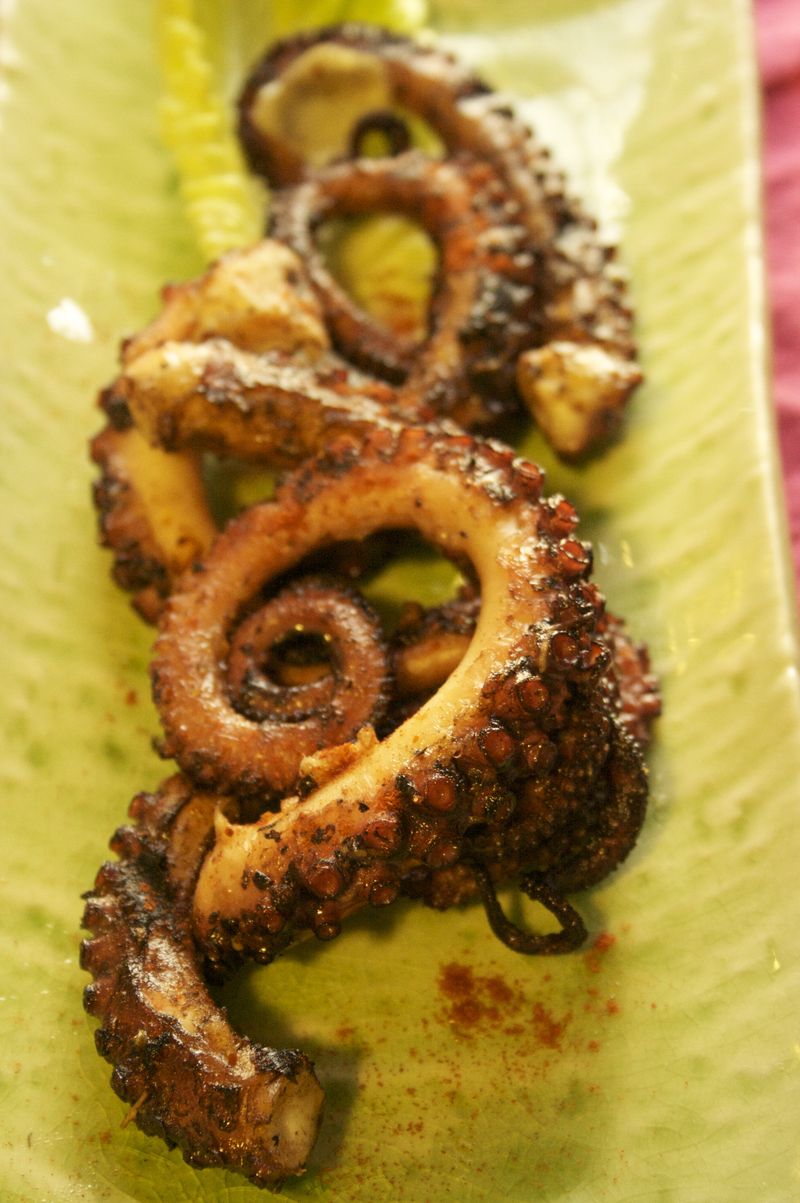 Most of you probably heard about a certain cephalopod (or Octopus for you non-science types like my editor, Jonitin). The octopus' name is Paul and he did a good job guessing many of the World Cup game outcomes this year. Talking of the World Cup, I had a kitchen full of loyalties. My mother has French, Italian and Spanish lineage. Her Mediterranean background led me to feel like I could go with any of those teams. But then most were eliminated, except Spain of course. Bringing it back to octopus (or cephalopod, for kitchen geeks like me),  Paul lives in Germany, where I was born. Coincidence? Anyway, now we're getting convoluted. So let's bring it back to pulpo, or octopus – for those who speak Spanish.
Big point here? Many people are turned off or intimidated by octopus. They don't know how to prepare this creature that can yield some really spectacular dishes. To add to the mystery, octopus comes with its own myths, like the need to place a cork in the pot you cook them in. Does it work?  Honestly, I did it once but could not tell if it made a difference. Then you can always beat the tentacles with daikon radish to tenderize them, as one Sushi chef friend told me. Ouch! They say fisherman recommend beating them against the steps of the harbor,  but what if your harbor lacks steps? Or worse, what if it takes you an hour on the train to get to the harbor?
Here's the tricks that I've learned to trust through experience. Simmer it in the pot for about two hours, cork or no cork. Just add a pinch of salt maybe a bay leaf and some vinegar….Or, my favorite, is prepare it baked and covered in a slow oven till tender, with some aromatics like fennel, garlic, etc….

Then if you're under the gun of a clock (or under a clock facing a gun), there is pressure cooker method — very fast but… unpredictable!
Regardless, to serve, pimenton, garlic and olive oil (if you're Spanish), or grilled doused with balsamic if you're Italian or… sliced and dipped in ponzu if you're inclined. Any way is good, just leave Paul alone!