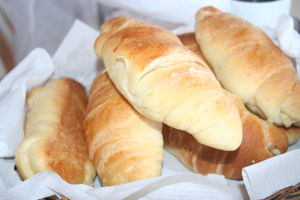 Visiting Ecuador, I have been craving a piece of decent bread. All I have found here are pillows of soft white dough, yeasted, slightly sweet, shaped into odd looking but familiar pseudo-crescent rolls. Other than that there's some yellowish colored bread, or even some neon pink glazed sweet breads carted on window paned boxes mounted on bicycles with parasols with the peddlers literally pedaling their goods.
Out of sheer bread withdrawal, I decided to attempt something that could be recognized as handmade, with some taste of wheat and perhaps some additional flavor profile. Say, wheat tortillas. I didn't have sourdough in mind, and for that matter didn't even have any yeast. Instead I relied soley on flour, water, salt and the flavor enhancer (and really fantastic ingredient) manteca de cerdo. Otherwise known as lard! The other thing I lacked was a rolling pin, so relied on Dan Lepard's innovative method of a wine bottle.Yes, they do make wine here, but that is another story. I started the dough using the ratio technique. Without Michael Ruhlman's ratio book in hand, I used only my sense and experience to guide me; as the only scale we have available is huge and is used to weigh fish and vegetables. Rudimentary skill was at its most primeval stages.I rubbed the lard into the dough, added salt and eyeballed the water to the feel of how the dough was coming along, as I hadn't previously used flour here.
Even with the humidity, the dough was perfect. I made up some tortillas which puffed up and tasted great. Whether plain or with cheese, tomatoes and chilies for an ad hoc  quesadilla, it worked, to the amazement of the cooks who had never had this style of tortilla. One of the cooks asked me if I knew how to make empanadas and if this dough would work. Having never considered the idea of tortilla dough being multi-purpose, I supposed that it could, and why not try? So I made little golf ball sized dough, patted them out flat with my hand, and proceeded to fill them with shrimp. Then we made some cheese with herbs. Our medium of cooking was in lard, fried things are good, especially in lard.
 
Tortilla and Empanada Dough
2 Cups of flour
1 tsp of salt
4Tbsp of lard
Water, add till you get a malleable dough.
Rub in the lard with the flour and salt, add in water till you have a manageable dough, mix but don't over knead dough. (Think short crust or pie dough.)
Rest at least 20 minutes covered with a towel. Divide into golf ball size or make larger empanada's if so inclined.
Roll into a circle for Tortillas, about 8 inches round. To cook tortillas use a round cast iron skillet or a flat Teflon pan and cook over medium high heat on both sides till puffy and blistered, about 1 minute for each side.
For empanadas, roll out dough about a quarter inch thick or pat dough with flat of your hand to create a oval shaped piece of dough. Fill the center of the dough with whatever filling you choose, about a tablespoon of filling depending how big you made the piece of dough. Pinch sides of dough to seal. Crimp with a fork or pleat edges with fingers.
Fry in a high sided pot or fryer till golden brown  350 F.