As my last post pointed out, I'm taking my summer break in Puerto Lopez, Ecuador, made famous by Anthony Bourdain, but also home to a new restaurant started by my own familia. Namely my wife and her brother. I'm here to help open it. From one kitchen into another, or out of the frying pan and into the fire.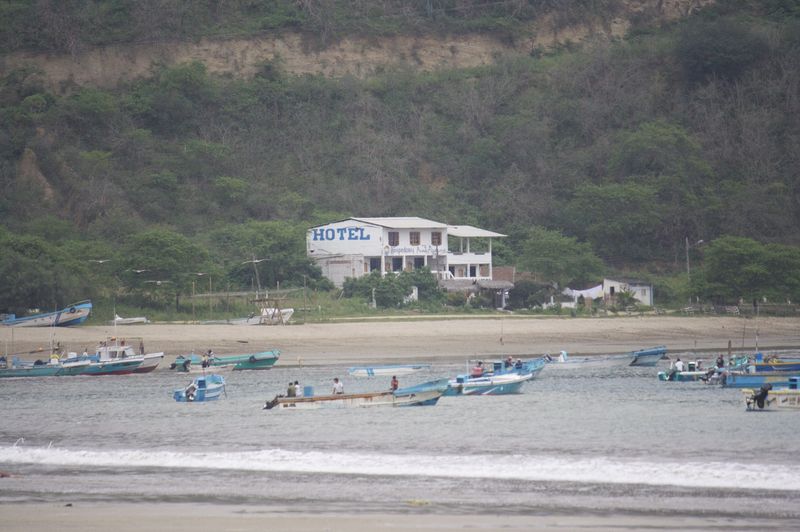 Actually, it's winter here now, a somewhat wet and overcast season where the temperature is a cool but comfortable 70 to sometimes humid 80 degrees. This sleepy fishing village is filled with people from all over the world, but particularly travelers from the interior of the Andean highlands.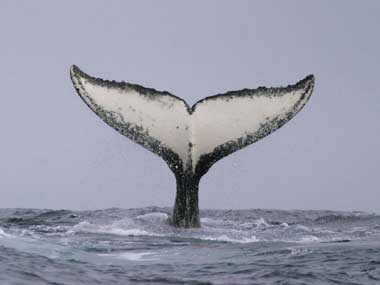 These folks come down with their family entourage during the  ferriado, (holiday season), their vacation on the coast.  They come to see the local ecological sites and the schools of humpback whales off shore, or just play and relax along stretches of sandy beach. Even if it is winter here you couldn't tell with the revelry that overtakes the visitors. Not even a cloudy sky or an occasional downpour can upset them. They are here to enjoy themselves. And they do. One of the biggest enjoyments is eating local specialties of this region, (Manabi). From the the ocean comes grilled fish, (comatillo) langostine, pulpo, calamari; and from the earth of course the renowned bolon; all the while sulking and carrying on about the portions and prices, but all the same they enjoy themselves nonetheless.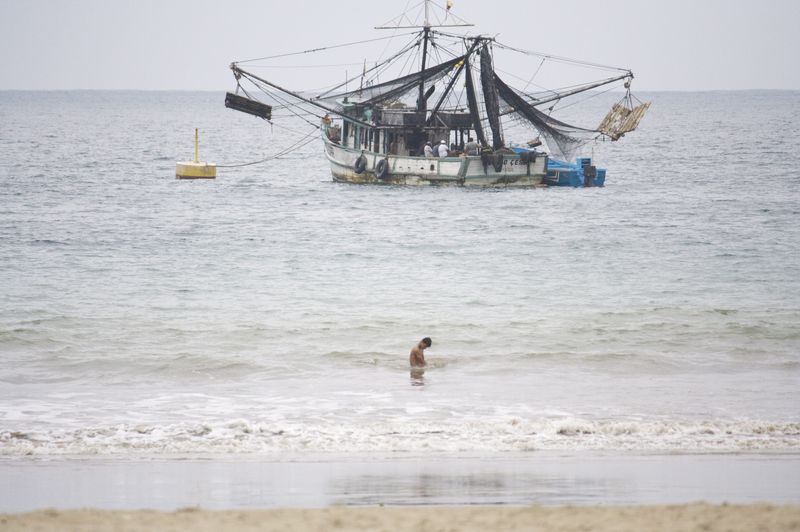 Ecuador is like other nations, with distinct cultural and geographic rivalries, which can often cause some name-calling. People from the interior Andean region call the coastal inhabitants "costeños" or "monos" (monkeys), partly because of the local diet of plantains and bananas (guineos). Quite funny since the coastal people call the Andean visitors "serranos", highlanders who eat grains and potatoes. Ironically they all come to try 
dishes derived from plantains, most typical of these dishes being the glorious and filling bolon.  Sort of like our own favorites, they come with different additions, including cheese, peanut butter, or Chicharrón. Beyond that there are sub-variations. During this  latest visit a new condiment I was introduced to something known as "sal prieta," a mixture of roasted peanuts, salt and corn ground and mixed in with various spices.
This week I have had my fill of eating plantains, but still can't seem to get enough of all the guises and flavorful ways to prepare them. Here are some of my favorite styles and my take on an old favorite, plantain and cheese empanada.
A trio of plantain, by Chef Bernardo Zambrano of the Sheraton Hotel in Guayaquil.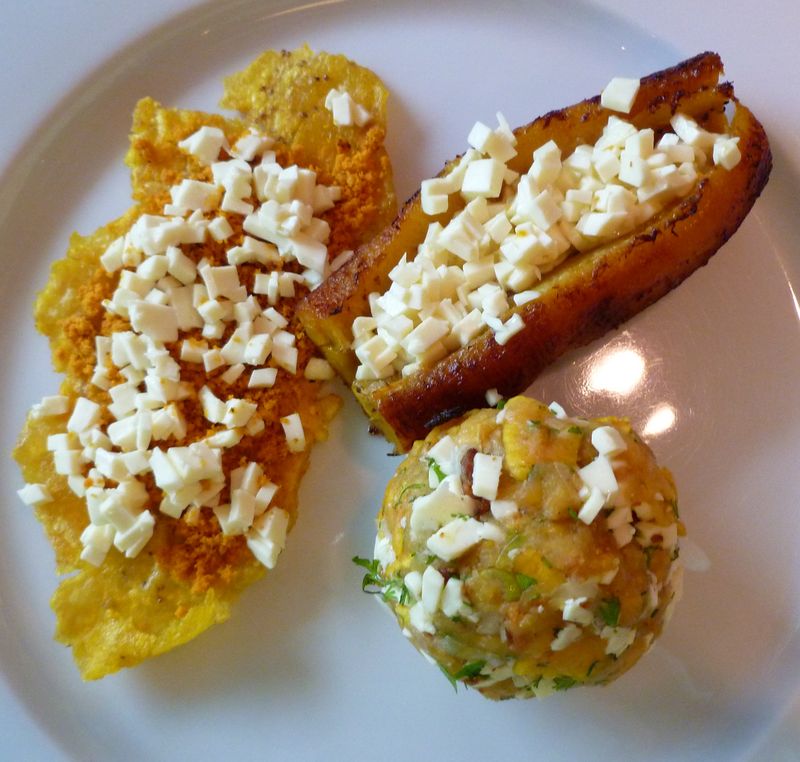 Bolon de verde con queso y Chicharrón, Toston de verde con sal prieta, maduro asado con queso.
(plaintain with cheese, pork crackling, flattened and fried with crushed,peanut, corn and salt spice mix. Ripe plantain grilled and stuffed with cheese.
How they make bolon in Manabí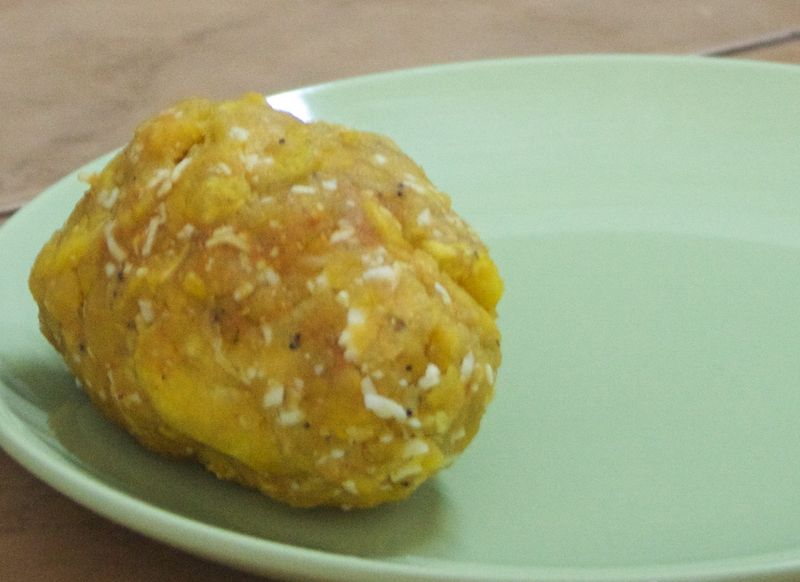 Empanada de verde con queso (plantain empanada's filled with cheese.)
4 peeled and boiled plantains
4 raw grated plantains
salt to taste
 About 1 1/2 cups of cheese, queso fresco or any semi soft cheese grated.
4-5 cups oil (frying oil, canola or if your lucky lard, tastes better!)
Peel the eight plantains, boil four till soft and your able to crush them with a back of a spoon. Grate the other four plantains into a bowl. If your able to use a food processor and pulse both the raw and cooked plantain together till you have a dough, you may add some of the cooking water to loosen the dough if too stiff. Divide into walnut shaped pieces, and between a sheet of oiled plastic wrap press down to make a round circle. Place a tablespoon of grated cheese in the center. Take one side of the dough and cover the other half sealing the edge of the empanada.
Deep fry in a pan till golden brown, drain on paper towel and serve hot.