January and Sunday means football for me, and this week was the NFL playoffs. With my home town team the Jets one game away from the Superbowl, I decided to enjoy it while attempting my own challenge, baking a ten grain bread. I was using a mix from a New York micro mill called Wild Hive Farm, and which is sold at Eataly. Composed of millet, rye, winter soft wheat, oats, barley, spelt, corn grits, and flax seed, it also has two lesser known varieties. The first is tritiale, which is a hybrid of wheat and rye. The second grain variety is known as vetch. It may sound like the Yiddish word kvetch, but Sunday the mix gave me less cause to complain than the defensive play of the Jets. 
For the recipe, I used an old production list for a nine grain bread dug up in a drawer (sorry, can't attribute it because the list had no name). Anyway, the list was for a yeasted pre-fermented bread.  I adapted it for sourdough, and tossed in some sunflower seeds for taste. The come-from-behind game of the Jets left me with my own running in and out between plays and folds. Not something I recommend! Well, given that the Jets lost, it really was the bread that shined through for my on my football Sunday.
10 Grain and sunflower seed bread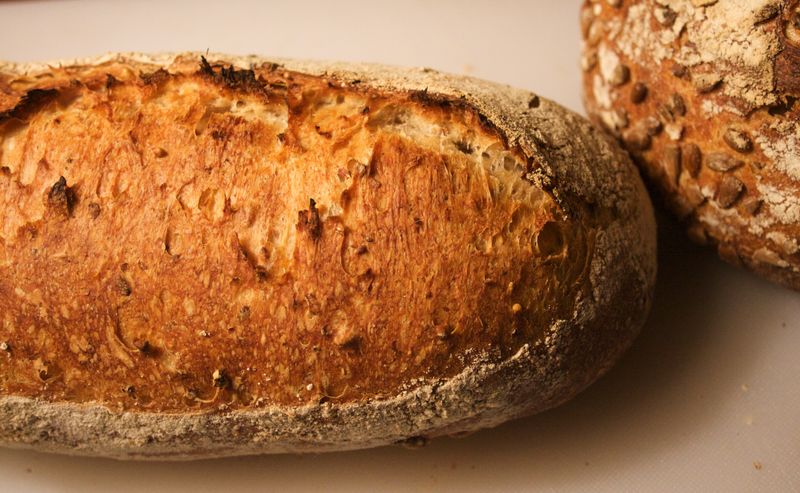 I converted my 100% hydrated levain to 70% as it was what the original formula was set up for.